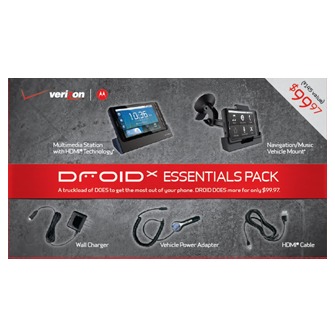 Verizon must be feeling generous. In celebration of the Droid X2's launch they're giving you a monster deal on accessories that will work with either the original Droid X or Droid X2. The bundle is, as the website points out, worth $145 if purchased separately, but for this week they're selling it for only $19.97. The package includes several handy accessories and is an awesome deal for anyone who's been eyeing any of the included goodies.
UPDATE: While I had heard there had been potential issues, this didn't occur for me since I'm not a Verizon customer, but if you're already signed in the bundle will show up as $49.97. To get the $19.97 price you need to sign out, search for "essentials bundle" and add it to your cart before signing in. Drop a comment if there are still issues.
The included accessories are a wall charger, vehicle charger, HDMI cable, Multimedia dock and vehicle dock. Both the wall charger and HDMI cable are technically there to be used with the multimedia dock, allowing you to set up a station to charge your phone, and stream HD pictures, movies, or music over the HDMI port, but both have plenty of other value. The wall charger is a handy backup in case you should lose your original or want to keep one at home and have another for on the go. The HDMI cord is a nice bonus, especially since neither iteration of the Droid X comes pre-packaged with one.
The vehicle dock and charger can be handy for keeping your phone alive over long drives, but most importantly makes your phone a full-blown GPS replacement. Naturally the value of this combo depends on your situation, but for most people who have to drive to work each day, this could be a godsend.
Once again, the deal is good only for this week, so if you've been thinking about getting any of these accessories for your Droid X, now's the time to do it. You can get the deal here at Verizon's online store.