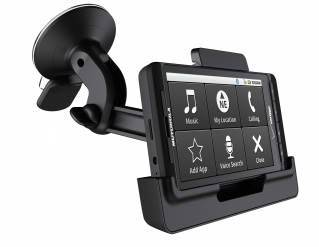 Besides the Droid X being unveiled today in New York, this car dock made an appearance as well. Naturally, a device of this caliber will have a slew of accessories. Not only is this dock a multimedia cradle but it has scratch guards and it can charge the phone. This dock will cost $39.99 and will put the device in the new dashboard UI that is a new component of MotoBlur.
Are you jealous of the EVO's kickstand? Well, the Droid X will have an optional snap-on case with its own kickstand. This case will retail for $24.99. Verizon will also offer a few NFL themed skins that it likely a spin-off of the included NFL app. And last but certainly not least, the multimedia cradle. This cradle will retail for the low price of $9.99, there's no word on if it will feature an HDMI jack but I expect it to be there. If you need an HDMI cable for your Droid X, that will also be available for $24.99.
UPDATE: The medi dock will be $49.99 and it does include an HDMI jack. There are also silicon skins available for $19.99.
[via droidlife]