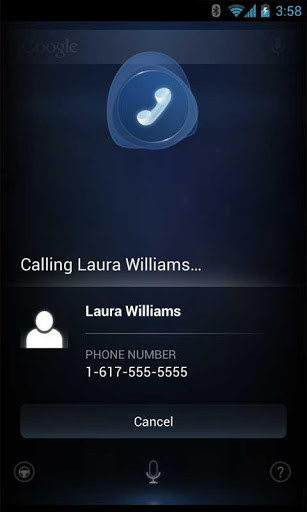 Dragon's own Siri competitor launched on Google Play in beta today. Dragon is working hard on its natural language technology, and this app reflects that. The new application completely free, so if you are looking for a new way to interact with your phone, there is no reason to not to take a look at this app.
Dragon Go! was Nuance's previous app, and it offered similar functionality to Dragon Mobile Assistant, but this new app functions more like Siri than the previous app. "Consumers loved the original Dragon Go! and wanted even more," said Michael Thompson, executive vice president and general manager, Nuance Mobile. "So we totally redesigned the experience in a conversational way and added the most popular personal assistant features." It's clear that Dragon took queues from other personal assistant apps and used its voice detection power to build a solid app capable of competing.
Dragon's app offers a hands free mode that is perfect for driving. You can wake up the app while driving by simply saying "Hi Dragon." It will also play inbound text messages automatically when set to Driver Mode. With the prevalence of the problems that can come from texting and driving, this is a fantastic feature.
Dragon plans to add new features to the app before the year ends. The did not explicitly say if the app will still be called a beta through the year's end. Users with an Android device with Ice Cream Sandwich 4.0 and above can download the app from Google Play right now.