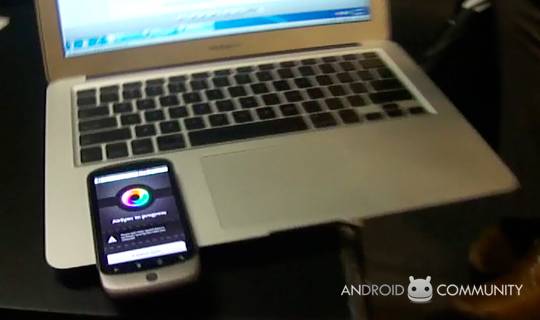 Here at Mobile World Congress 2011 we've had a meeting with several doubleTwist reps including Stuart Collingwood (Vice President, EMEA,) and Monique Farantzos (Founder, President.) In this meeting we've been told wonderous things of a future where syncing your Android with your desktop is as simple as pressing a single button, and in many cases not pressing a button at all. Before we even continue in this post, I recommend you grab the app and the desktop client from doubleTwist.com and get to freaking out. Then lets have a peek with video demos into the future with some demos below so you can see the simplicity if you aren't already completely convinced.
What you're about to see is both a transfer of a movie to an Android handset in basically no time at all, then a playing of a movie, then a transfer of a movie back to the desktop. It's really quite slick. This app is known on the streets as "iTunes for Android" – looking VERY similar on the desktop, not working in exactly the same way of course, but definitely not on Apple's best loved Android apps list. That should send up a flag for you Android users, as should 1 million + active users and a 300% growth for doubleTwist in the last quarter of 2010. For a 20 person operation, they've done extremely well for themselves thus far.
[vms 2cbe4813cae2f7715336]
What doubleTwist aims to do, says Collingwood, is to clinically solve the problem. The problem being "how do I move music and movies and all sorts of fun media back and forth from my Android to my desktop?" What doubleTwist is offering here, continues Collingwood, is offer essentially the only end-to-end system for media management between your desktop and your Android phone.
[vms aefde80ffd9aec500e08]
And what does the future hold? In speaking about updates to the app, changes are coming as they will, updating for regular bugs and the like, but in slightly longer term – a tablet specific interface. Currently doubleTwist is used in over 150 countries, and they'd like to expand that, obviously, to every single country in the world, but they've mentioned they're putting special focus on expanding outside the USA and UK. Did you make it this far into the article without downloading the apps? Get on it!