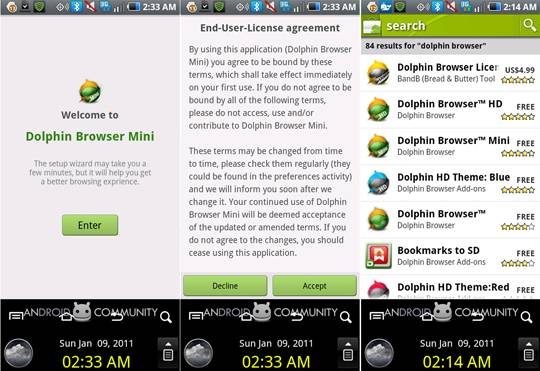 Back a week or so ago when you saw us running through the leaked Honeycomb Music player, you may have noticed a couple of aquatic sea creatures popping up on a list of possible options for searching for a music track: Dolphin Browser HD and Dolphin Browser Mini. Both of these apps are super fantastic web browsers, and today the mini version comes out of Beta for a full release. This lovely little lady is officially titled Dolphin Browser Mini V1.0, it's free, and it's available in Android Marketplace now!
If you'd like to know the differences between this Dolphin and the other different versions of the browser available in the marketplace, take a look at [this post], but we'll tell you right now, "Mini" is the fastest and most stripped down version of the app, so you know dang sure well which one we're choosing. If you've used Dolphin Browser Mini before, you're in for some surprises, as this is the first major upgrade of the system, and they've pulled out more than one stop. This first full version of the app has:
• Improvements to Dolphin Mini's UI: refined menu style, toolbox design, moved tab menu location, and etc.
• Addition of Data backup and restore feature (in toolbox) for those who would otherwise perhaps lose relevant data when resetting one's phone or uninstalling this app.
• Addition of quick access to clean data (again, in toolbox) and simplification of the layout of dolphin settings.
• Addition of Bookmarks Label which allows you to label each bookmark and see all of the bookmarks falling under any certain label.
• Addition of flash plugin with an "on demand" option as default – set to "always on" if you like.
• Pop-up of options available now upon press-hold of address bar, including "Add Bookmark," "Select Text," "Copy URL," "Paste," "Share," and "Save Page."
You can take a look at ALL of the features of this lovely and FREE app in the app market now by clicking HERE whilst browsing with your Android phone. If you're still not convinced, check out the gallery and the video below. Green and orange! BTW everyone should take a page out of the production value book of the people presenting this video, it's freaking awesome. Also if you're using this browser (or if you REFUSE TO,) let us know why!
[Via Dolphin Blog]