DisplayLink is known for going beyond the boundaries of what images and video you can push through a simple USB connection. We've seen them push high resolution images to dual 4K monitors using their dock technology and a single laptop source, all through USB. And with the legitimizing of USB Type-C connections, this will just get better. Yesterday, they launched their Android app via the Google Play Store which will enable users to push video and images from Android devices to larger screens over a USB connection.
John Cummins, DisplayLink Senior Vice President Sales and Marketing, says that with the app working in tandem with any DisplayLink enabled display or docking station, you can use Android smartphones and tablets as workstations. The progress of processing technology for mobile devices now allow people to actually use their phones and tablets as their primary work device. "Office productivity apps such as Google Docs or Microsoft Office for Android really benefit when connected to a full size monitor, keyboard, and mouse," Cummins added.
The first version of the new app will allow users to connect their mobile devices to DisplayLink enabled workstations to create content, providing 1080p resolution when connected to a monitor. The device requirements are standard – an ARM based processor, the device running Android Lollipop (5.0 or later), the USB Host Mode enabled on the device, and a USB OTG (on the go) cable to connect the USB DisplayLink dock cable (USB Standard-A) to the Android device. USB 2.0 and 3.0 devices are supported.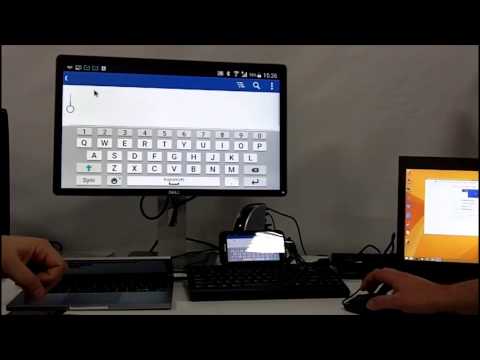 DisplayLink recently showed their tech at Computex in Taiwan, impressing a lot of people and building up their stock as a company. It seems to us that they are envisioning people to bring just the one device – to work, or at home – and use the same device to power their work processes. There certainly is a ways to go for this process, but watch this space.
SOURCE: DisplayLink