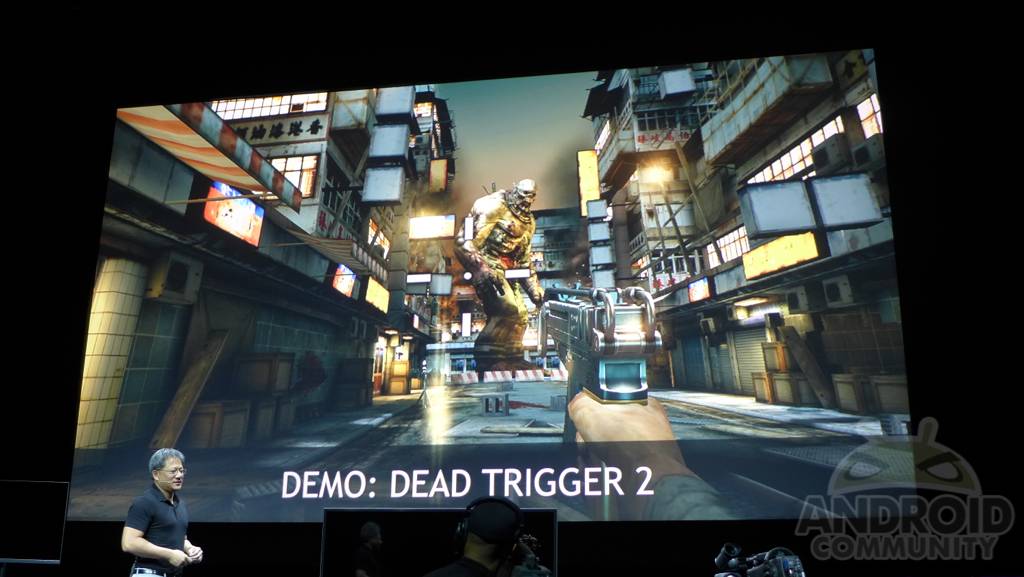 Today the folks at NVIDIA unloaded a whopper on us. That being their new and improved "fastest mobile processor" NVIDIA Tegra 4 quad-core chip for smartphones and tablets. While they were teasing the amazing graphics we can expect in mobile gaming, they also shown off a game we didn't know was coming. Essentially announcing a sequel to one of the best shooters on Android — that being Dead Trigger.
Yup, the excellent Dead Trigger shooter for Android from MadFinger Games (developers of Shadowgun) are happy to formally announce Dead Trigger 2 is coming soon. In fact it will most likely be one of the first games launched with support to enjoy all the power NVIDIA's Tegra 4 can provide.
Dead Trigger had some of the best graphics to date, and is close to Call of Duty as you'll get — only with zombies. Dead Trigger 2 was very briefly shown off on stage here live at the NVIDIA CES 2013 press conference, and it looks epic. With stunning visuals, detailed lighting and effects that are truly "console quality". It looks impressive.
We've been saying that for a while, but the Tegra 4 is finally making console quality games for mobile devices a reality. We have a feeling a ShadowGun 2 may be coming soon, followed by improvements and updates to their popular DeadZone multiplayer. Most likely NVIDIA and the developers MadFinger Games will be sharing details soon, so stay tuned.