Those who are subscribed to AT&T and have a lot of time in their hands can download Data Parks and see for themselves how they can ear free data. These extra data can then be added to their current wireless plan. All AT&T wants you to do is answer some surveys and do some more mobile shopping. The idea is to earn free data after you have signed up for new subscriptions, shop, and take surveys.
Instead of points, your effort will be measured in MB which can be earned. These are not cash rebates but you can add the data you've collected and transfer them to your AT&T account after each monthly billing period. Simply put, these are rewards earned for doing something for your mobile carrier and shopping for yourself which is already rewarding.
Data Perks include offers within the app that you can finish to earn extra megabytes. It's more fun to shop using this app because you can earn more data. Sign up for subscriptions or spend some time answering surveys because you will be rewarded. The more data you earn, the more time you can use to download media files, app, and games, or watch videos.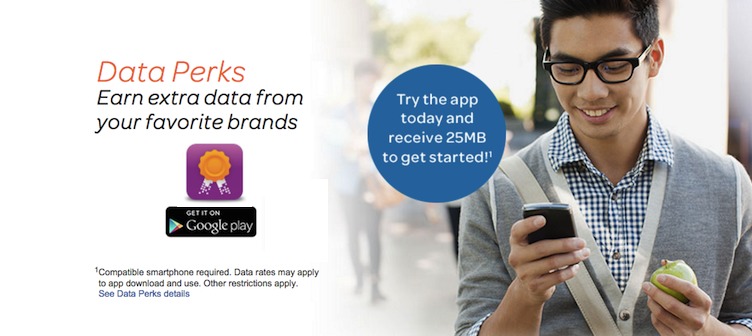 You need to be a postpaid consumer wireless plan holder from AT&T to take advantage of this offer. This Data Perks app runs on Android devices running KitKat and above. Remember that you can only earn data and not buy more from Data Perks. Sure, you can buy extra data to add to your current bill but there's a way to not spend more dollars. With the app, you can get free data just by doing surveys. But if you're into mobile shopping, you can just use the app to shop for new shoes, sports gear, or whatever you need. You may be spending more on the items but at least you've got free data you can use for later.
Download Data Perks form the Google Play Store
SOURCE: AT&T