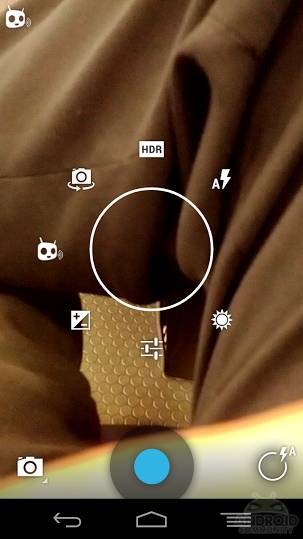 For the hundreds of thousands of you using the popular custom ROM CyanogenMod, we have an awesome new feature to share with you all today. We recently learned that voice shutter modes would be arriving in CM10.1 from those awesome developers, and now the latest nightly builds have both hands-free and voice shutter options for the camera, and it works like a charm.
CyanogenMod recently announced this was coming soon and the video below will give you a short look at how the voice actions work, but then we have screenshots of all the additional settings too. It's simple. Don't want to use your hands to take a photo just set a timer. Want to use voice actions? Say a few and it will snap the photo for you. It's quite nice and now we don't need pesky and buggy 3rd party apps to do this. It's baked right into CM10.1 nightly builds.
Snap a photo from a distance by saying a trigger word: You can use 'Cid', 'Whisky', and of course 'Cheese!'
Running the latest CyanogenMod nightly build for devices like the Nexus 4, or Galaxy Nexus you'll be able to enjoy this awesome feature. Just open your camera and make sure "persistent hands-free" is enabled in camera settings. Then the quick settings menu is where the magic happens. Tap the "Cid" (Android head logo) and you'll get all the settings you need. From none, voice, and multiple time durations. Even one minute delays to set up that camera and get in position for a group portrait. Smile!
So far it appears that each time you want to use a delay you'll need to select the time amount before hitting the shutter button or saying cheese, as it doesn't stay put. Which makes sense as these features won't be used extremely often. Now those self portraits or group photos will be much easier on your mobile device. As long as you're running CyanogenMod of course.
Thanks to a few awesome CM10.1 KANGS by Euroskank, we've been enjoying this on our own Galaxy Nexus running Android 4.2.2 Jelly Bean for a few days already. Get the latest Euroskank CM10.1 build for your device, or head to CyanogenMod and get their latest nightly builds too. Enjoy the new camera features folks!
— Thanks to @Fitsnugly and @mtw4991!