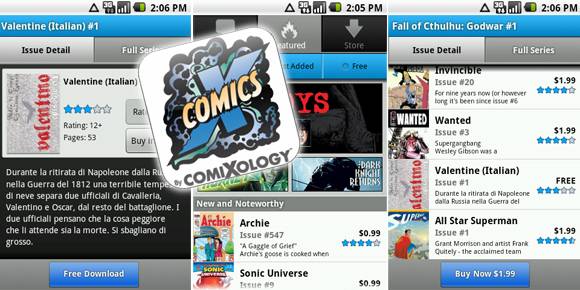 Behold! The most fabulous of comic book readers and downloaders and presenters has finally been transformed into a version that works with Android. It's been rocking on iOS and the web for a while now, but finally, oh finally, its over 2,500 comics can now be purchased on Android. PLUS there's another 300+ that can be had for free. This isn't your everyday n00b comic reader though, note that. There's no Marvel here. DC is the biggest of names, followed by Image Comics, Archie, and Dynamite Entertainment.
Take a look at this app in Android Marketplace today for free and tell us if you enjoy your experience if you dare (supposing you're able to take your eyes back out of the thousands of comics you'll now have instant access to.) Take a peek at the full press release below:
comiXology Announces Beta Release of Android App
The Largest Digital Comics Store and Guided View™ Reader Arrives For The Holidays

12.15.2010- New York, NY – Due to overwhelming demand, the holidays have come early for millions of comic book fans everywhere with the release of the Comics by comiXology Android™ app (beta) powered by comiXology, the leading digital comics platform provider for all iOS devices, the Web and now Android.

Expanding beyond its industry-leading digital comic book apps on iOS and the Web, comiXology brings the largest digital comics library to the Android marketplace, enabling fans to read comics on Android devices running 2.1 (Eclair) or higher. The Comics by comiXology Android beta app gives users the ability to discover, purchase, and read more than 2,500 digital comics and over 300 free comics from 40 publishers. Launch partners include DC Comics, Image Comics, Dynamite Entertainment, and Archie, alongside many more. Users can search and browse through comics based on titles, creators, publishers, genre and ratings, and find local comic book retailers with the built-in retailer finder.

"Our enthusiastic community has been asking us for an Android app and it's with great pleasure that we bring it to them in time for the holidays," said David Steinberger, CEO of comiXology. "Comics by comiXology on Android delivers comic books to mainstream audiences on even more devices. Now, more people who want to read a comic will have the opportunity to do so, when and where they want, while giving our content partners another major distribution outlet."

The comiXology app for Android features a full in-app store and the best digital comics reader on the market. comiXology's patent pending Guided View™ Technology gives users a natural reading experience while making it readable on small devices.

Comics downloaded to the Android app will be available on the Comics by comiXology iOS and Web platforms through cross-platform synchronization so users can enjoy comics on all their devices, anywhere.

"comiXology is the leading distributor of digital comics, which is why we have partnered with them to power our iOS app and Web Store," said Hank Kanalz, Senior Vice President of Digital, DC Entertainment. "The release of its Android app shows the company's ongoing commitment to expand into new markets, create opportunities for increased visibility and revenue, while above all, answer the call of its fans for convergence across platforms with a centralized library to enjoy comics anywhere."

In addition to DC Comics, publishers on the Comics by comiXology Android beta app include:

• A Wave Blue World
• Adhouse Books
• Alterna Comics
• Antarctic Press
• Arcana Studio
• Archie Comics
• Asylum Press
• Bluewater Comics
• BOOM! Studios
• Com.x
• Creative Impulse
• Creator Owned
• Devils Due
• Digital Webbing
• Dynamite Entertainment
• EigoMANGA
• Evil Twin Comics
• First Salvo
• Image Comics
• Keenspot
• Markosia
• Moonstone Books
• Oni Press
• Radical
• Red 5 Comics
• Shadowline
• Skybound
• South Fellini
• Slave Labor Graphics
• Studio 407
• Th3rd World Studios
• Top Cow
• Vertigo
• Viper Comics
• Zenescope Entertainment

About comiXology
Since 2007 comiXology has been developing the technological infrastructure to bring comics into the digital mainstream and expose new audiences to the rich history and culture of the industry. Through partnerships with top comic book publishers including Marvel Comics, DC Comics, BOOM! Studios and Image Comics as well as their own mobile and web apps which hosts nearly 4000 digital titles, comiXology has become a leader in digital comic book proliferation. Also focused on creating strong ties with retail stores through its technology solutions, comiXology continues to transform the previously fragmented comic ecosystem into a vibrant and cohesive marketplace.
http://www.comixology.com/
Android is a trademark of Google, Inc.