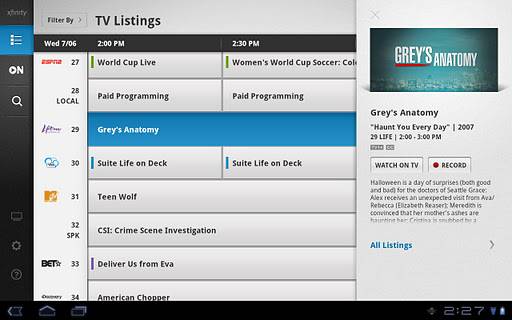 Comcast customers are in for some good news today. The company updated its mobile Xfinity TV Player app on Google Play with some cool new stuff. Users of the app can now download content directly to the device. This means that you can catch up on TV shows even if your device does not have access to the Internet. This should be perfect for owners of Wi-Fi only tablets.


The app is available to download now. Comcast customers are able to download shows from many popular channels such as Showtime, Starz, Encore, and Movieplex, plus many others. The app can be downloaded on both tablets and smartphone devices.
If you spend a lot of time commuting, this update should be perfect for you. Even if you have a tablet with mobile data, you might find that it drops service on the train, and with the content already downloaded, that will not be an issue. Some of the most popular shows from premium channels like Showtime are available to download, so you can watch Dexter and Homeland while on the go.
Of course, it's not just TV shows in the app. Users can download full movies like Cars 2, The Muppets, and others. The content is available for download over Wi-Fi connections for all users. That being said, Comcast and Verizon have teamed up to offer users the ability to download and stream content to their mobile devices over the Verizon 4G LTE network.
[via SlashGear]