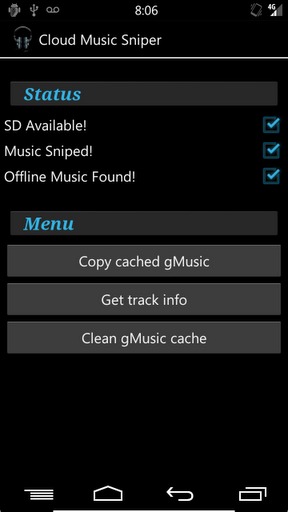 Google Music is pretty awesome – as an integrated service on Android, it's hard to beat. But there's just one issue with music stored on Google's servers, whether it's purchased from the Android Market or uploaded from your collection: it's only accessible from Android using the official Google Music app. With developer R2DoesInc's Cloud Music Sniper, that's no longer the case: this Market app allows any application to access locally stored songs from Google Music, so long as they've been downloaded to your phone/tablet's internal storage or SD card.
The app is surprisingly simple: just load it up, and it starts saving and "sniping" songs saved from Google Music. All it's really doing is moving some local files around and tagging them for third-party app access. (Sadly, the app can't "snipe" your music directly off of Google's servers – you have to download local copies through the Google Music app.) It'll preserve the song information (title/artist/album, et cetera) assuming that it's there. And the best part: it doesn't need root. Any device that has access to Google Music should be able to run the app.
Cloud Music Sniper costs $1.99 in the Android Market – a fair price considering the functionality you gain. Anyone who's a fan of music apps like PowerAMP, WinAMP or DoubleTwist (or just doesn't like the rather spartan Google Music app) should find a lot of utility here. Hopefully this functionality will be included in a future Google Music update, but we kind of doubt it. If you're adamant about saving a couple of bucks, remember that you can download your music on a desktop computer and transfer it to your phone the old-fashioned way.
[via RootzWiki]