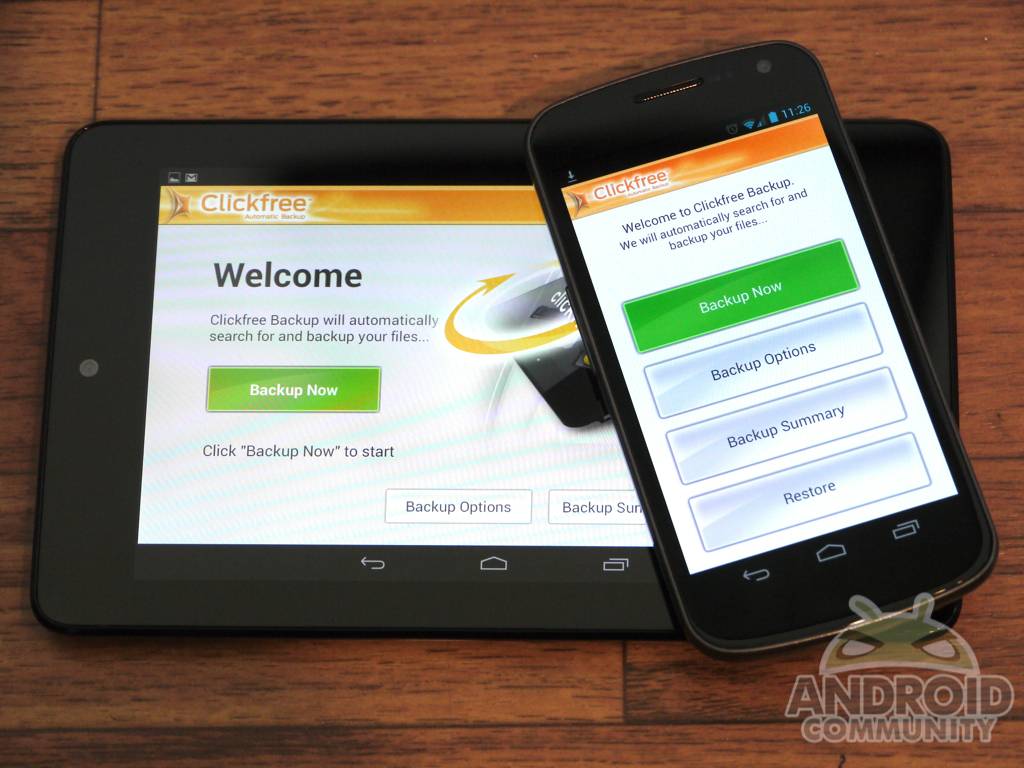 Our smartphones are getting more and more complex. With hundreds and sometimes thousands of pictures, tons of video, bookmarks, contacts and even full documents. While the Android developer community has multiple backup tools, what about regular users? For those looking for a a dead simple way to automatically backup everything on your phone, we have the app for you.
The award winning PC backup company Clickfree is now on mobile. Clickfree recently released their mobile backup option for Android and it makes backing up your entire device automatic. It's essentially a single click. In a very simple and easy to use and understand manor users can backup everything on their phones or tablets — then save it to multiple locations. All of this is done without root, and works great for stock device users. With Clickfree the backup can be stored locally on the device, or uploaded to multiple options such as Dropbox, Google Drive, Box.net and other cloud storage options.
FEATURES:
– Backup to your SD card or multiple Cloud Accounts, including Dropbox, Box, SkyDrive, Google Drive and SugarSync
– One Touch Backup: Tap" Backup Now" button, your backup launches automatically
– Auto-Backup: Automatically searches for and backs up your precious content
– Multi-Category Backup: Backs up Photos, Music, Videos, Documents, Applications, Bookmarks,
Contacts and Calendar
– Multi-Device Backup: Use the same SD card to back up multiple devices
– Category Viewer: View a summary of all backed up items
– Built in Photo Viewer: Easily view your backed up photos just like on your device
– Space Management: Automatic calculation of space required for backup/restore
– Easy Restore: Restore all backed up content to the original location with just two easy taps
– Easy Transfer: Your backed up multimedia content can be easily transferred to a new device
As you can see from the feature set above they have a pretty great list of options — especially all for free. The user interface might not be the prettiest on the block, but it is meant to be about ease of use more than looks. The selections are large, easy to see, and easy to understand for beginners or experts. I backed up about 600 pictures, some bookmarks, and all my contacts in under 2 minutes. They were instantly saved to both my SD card on my device, as well as uploaded to Dropbox for good measure. Restoring is even easier and is a simple single tap.
Clickfree even has an auto-backup option where the app will search for and find new precious content such as pictures to backup. Then they'll be placed where the others are for on device, or cloud storage restore. They have a category viewer, a photo viewer, and everything is easy to understand.
However, there are a few areas that I wish Clickfree Mobile Backup was better. One would be to add sync options so when I delete an app or image on my device, it recognizes this action and does the same for my backup. Currently after a restore you'll have things you've since deleted. Next I'd love to see message backup for those wanting to backup their entire text message list. That should be easy enough. Then lastly some sort of option to add a password to your backups would make sense, and I can't imagine why they haven't included this yet.
Overall Clickfree Backup is extremely easy, quick, and simple. This will work great for advanced users, or beginners that are not as knowledgeable as others. The best part about Clickfree is in the name — it's completely free! I've also been told a more advanced "for root users only" option will be available later this year, so stay tuned for more Clickfree news! To give it a try today head to the link below.