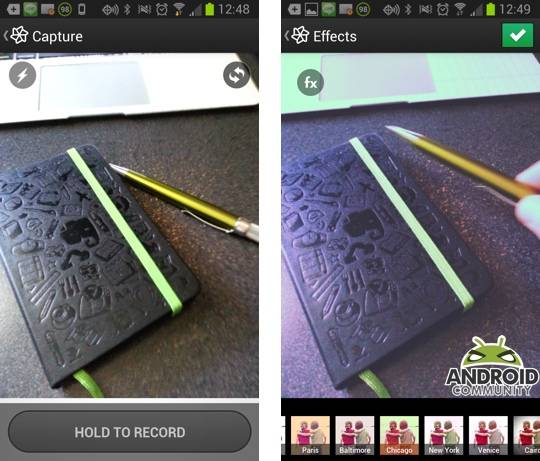 Cinegram, for those not familiar with the name, is an app that will allow you to create and share animated GIFs. The good, or possibly bad news given some of the GIFs that you may end up seeing is the app has just today launched for Android. Yes, this is another case of an app spending quite a bit of time as iOS only. We will not let that get us upset though because as of today we can share in the animated GIF fun that comes with being a Cinegram user.
The Cinegram app is fairly simple and straight forward to use. You have your account and similar to other social networking apps, you will have your those who follow you and those who you choose to follow. Your saved GIFs can also be shared out to Facebook, Twitter and Tumblr with relative ease. These GIFs start out as 4 second videos which you can then spice up a bit with filters.
Otherwise, the Cinegram app has arrived as version 1.0.0 and is both free to download and free to use. The one minor catch, the app requires Android 4.0 or later for use. Of course, with a fair amount of Android users now sitting with Ice Cream Sandwich or Jelly Bean, that shouldn't be as much of an issue at this point.
All said and done, Cinegram may not be the most awaited app, however we do think it should be able to provide a bit of fun. But that is not to say that we aren't still waiting for Vine to finally ditch that iOS only tag. In the meantime, anyone excited about Cinegram coming to Android? Or has it arrived as just another app that will make an initial splash only to fizzle out?
[via Google Play Store]