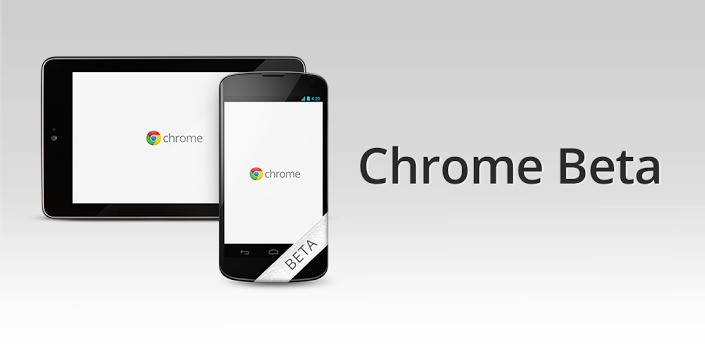 Google's popular Chrome Browser for Android has officially left the beta tag and is readily available from the Play Store. However, Google still wants to test new features, fix bugs, and have beta testers. Earlier this month they announced a new Chrome Browser beta program, and today their new app received it's first update. Read on for more details.
Chrome for Android is extremely stable, works great for daily browsing, and is now coming stock on many new devices like the Nexus 4 and Motorola's recent phones. Google's still working hard to improve their app and those looking to enjoy the latest and greatest with cutting edge features – and bugs – the beta version is for you.
Users will be able to enjoy the latest features, but could also be introduced to a few new bugs or issues that will cause the occasional quirk. The good thing here is you'll be able to provide feedback and help improve the project as well. Today they've issued the first update to Chrome Beta and it has tons of new features, fixed plenty of bugs, and added a few as well. Here's the full changelog:
164632 – Edit Bookmark is broken
167351 – Youtube video controls are lost after returning from fullscreen
167016 – Some Samsung Galaxy S2 freezes
168062 – Double tapping on non-zoomable sites scrolls the page to the top briefly before returning to original position
167379 – Sometimes tabswitcher is frozen
166998 – Tab content stretched out while returning to it through side swipe gesture
168632 – Crash – Stack Signature: TabAndroidImpl::FromWebContents
168388 – Sync signed in info text's font size is too small
168430 – Bookmark star icon doesn't turn grey/white immediately after bookmarking URL /deleting URL from bookmarks

Known Issues:

Performance is sluggish, noticeably on Galaxy Nexus and Nexus S
Frequent freeze on devices with specific versions of Qualcomm GPU driver
Text autosizing may break formatting on some sites
Video continues playing after exiting fullscreen on android phones
[HTC Droid DNA] Getting crash on tabswitcher mode
163439 – yahoo.com page links are not working
166233 – Cannot submit comments on facebook posts or pictures
165244 – Text handler jumps or disappears when moving
162486 – iframe scrolling broken
158633: Tap disambiguation overaggressive
169910 – Flickering while opening new tab
Today's update will bring Chrome Beta for Android to version 25.0.1364.33 and everything mentioned above is what you have to look forward to. It appears some auto-resizing issues are still present, the DROID DNA is having a few issues, and Qualcomm devices might not play too nice either. In the meantime expect frequent updates to address problems and improve performance of the Chrome Browser.
[via Google Play Store]