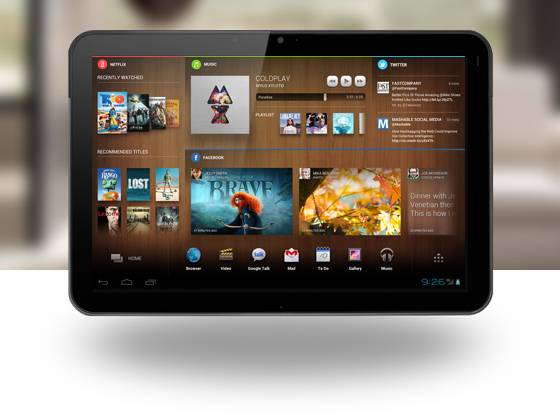 There's a ton of launchers available at the moment, but depressingly few are for Android tablets (with Go Launcher HD being the best among them). Chameleon is a new tablet launcher that uses an impressive methodology: its layout changes depending upon the time of day, connection, or even GPS location, catering itself to which apps you use in which situations. Like seemingly everybody these days, the creators have started a Kickstarter campaign to get Chameleon finished and into the Google Play Store.
Why do they need a whopping $50,000? They aren't saying, but they are giving a pretty compelling reason to donate: give them $5 or more, and they'll let you have access to the launcher on your Android tablet before it goes on sale in the Google Play Store. Higher donations get custom T-shirts, wallpapers and posters, and at the $5,000 pledge level you get a shiny new Galaxy Tab 2 10.1. (Come on guys, for that kind of dough you could spring for a Transformer Prime.)
The app is beautiful and the idea is novel, so I've sent five bucks towards the project myself. Anyone who wants a more capable launcher, with some undeniable inspiration from Windows Phone 7, should check it out. For me,  a launcher that kicks in with music, alarm and sleep timer functions around 11:00 at night would be perfect.  Unfortunately it looks like there' s no smartphone version, so only those with tablets running Android 3.0 or later need apply. Currently the plan is to release the app in the Play Store in September, with donators getting access in August.
[via Reddit]