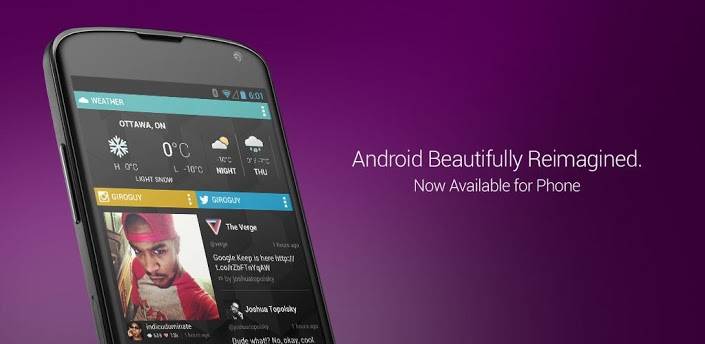 Chameleon originally came to light by way of Kickstarter and as an alternative launcher for tablets. As of today however, the launcher is now publicly available for any and all that want to use it, and also available for tablets as well as smartphones. Yes, Chameleon Launcher for Phones has officially landed in the Google Play Store. No real surprises here, however we do have the breakdown of features, versions and prices.
On that note, those searching for Chameleon in the Google Play Store will be greeted with a few search results. The two that that you should focus on first and foremost are Chameleon Launcher and/or Chameleon Launcher for Phones. These apps are priced at $3.99 and $2.91 respectively. Those who are first time Chameleon users will only need to choose one of these two apps.
If you plan to run Chameleon only on a smartphone you can opt for the 'for Phones' version and pay $2.91. Those looking to run Chameleon on a tablet and smartphone will want the 'Chameleon Launcher' app for $3.99 as this will allow you to run the launcher on the smaller and larger screens. Aside from which version you need, the features are pretty much the same across the board. Chameleon is a launcher replacement app. That is to say you will be giving your device a complete new look. And Chameleon does offer a unique style.
The app takes advantage of widgets and has options for the calendar and clock as well as weather, Facebook, Instagram, Twitter and more. There is also a news reader widget available. Some other perks of Chameleon include a somewhat real-time flow of information which comes courtesy of the widgets. Chameleon also has the option to create a mini App Tray that gives quick access to the apps that you want and/or need. That all being said, those looking for Chameleon Launcher (for tablets and smartphones) can use this link and those looking for Chameleon Launcher for Phones can use this link.