Getting root access has become a more complicated thing ever since Google tightened up on the security and file integrity protocols of Android starting with Marshmallow, and now into Android Nougat. Developers have had to become more creative in gaining root, but that is not stopping the legendary Chainfire. He has tweeted that he has gained root access to the Google Pixel which runs on Android 7.1 Nougat, and that an updated SuperSU should be published soon.
Chainfire first tweeted this: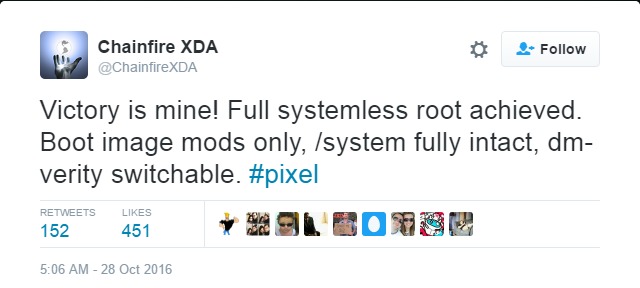 The developer tweeted a follow-up, saying that "automating, cleanup, packaging etc could take a few days."
If you're still a bit hazy on what just happened, it means that root access to the Google Pixel has been gained without compromising the file integrity of system files. That is an achievement in itself, given how Android 7.1 Nougat has been built. Here's a photo from Chainfire, just for posterity.
It should only be a few days or a week or so before we see the official SuperSU app come out for systemless root on the Google Pixel. Once again, we will just need to wait until Chainfire finally delivers the goods.
SOURCE: @ChainfireXDA