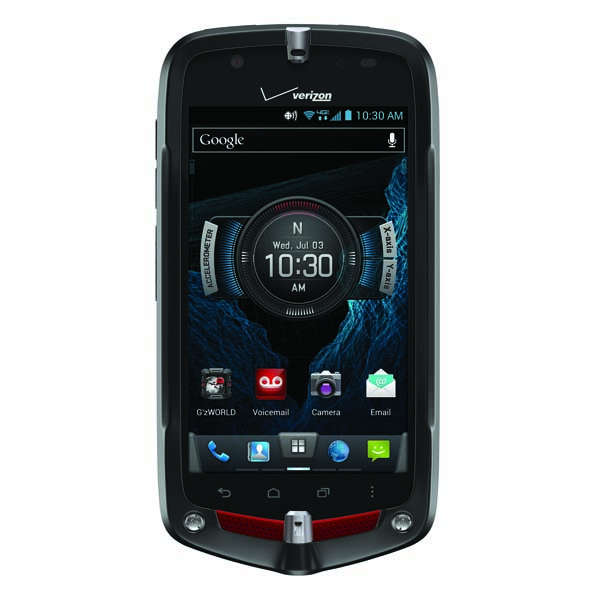 The 4G LTE equipped version of the Casio G'zOne Commando smartphone wasn't much of a secret, however as of today we do have an official announcement. The news comes by way of Verizon Wireless who have confirmed the pricing and upcoming availability of the Casio G'zOne Commando 4G LTE.
Big Red will have the handset available for purchase on June 27th. The price will be $99.99, though that does come along with a two-year agreement and after a $50 mail-in rebate. Basically, if you are looking to pick up the Casio G'zOne Commando 4G LTE — you should be prepared to shell out $150 (plus tax) on the day of purchase.
In addition to adding the LTE connectivity, this model arrives Global Ready and with features to include the G'zWorld app and the G'zGear multi sensor tool. The World app will allow the user to track their activities on a map while at the same time being able to include pictures. These adventures can then be shared on Facebook and/or Twitter.
The Gear tool will provide updates on items to include latest barometric tracking technology, earth compass, sun/moon displays, temperature comparisons, tide views, constellation gazer and virtual trail functions. These findings can also be shared with others using the Live G app.
Aside from those two apps, the G'zOne Commando 4G LTE will be arriving as a rugged handset with protection against elements to include shock, water, dust, vibration, salt, fog and humidity. The handset will also have a 1.3 megapixel front-facing camera and an 8 megapixel rear-facing camera with 1080p HD video recording.
And keeping with the outdoor related goodies, the handset has a Glove Mode which should help when the temperature drops. Otherwise, while maybe not the best of names, this does appear to be a nice follow up to the original G'zOne Commando and possibly a handset that could fill the needs of someone who spends more than an average amount of time outside in the elements.
SOURCE: Verizon Wireless