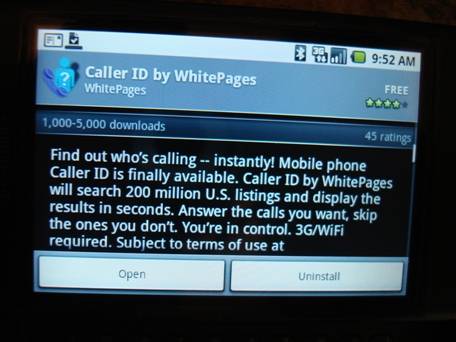 Among the applications that hit the Android Market today, one in particular stands out in our minds. Caller ID from WhitePages is a handy application that very well might get looked over.
This application provides you with advanced caller ID functionality on your Android-powered handset that you would normally only get on a land line. Utilizing the mapping tools and promoting the truly mobile nature of the device. Caller ID from WhitePages allows users to:
See name of incoming caller (based on one of more than 200 million listings in WhitePages online directory)
It took less than two weeks to create this clean, branded user-interface with simple, clean functionality. This application is just what a mobile phone needs, it takes the guesswork out of incoming calls. Caller ID from WhitePages is perfect for those of us who screen our calls. Below is a video provided by Vice president of monetization and mobile for WhitePages, Kevin Nakao.
[youtube]http://www.youtube.com/watch?v=WfyUeJ58CVM[/youtube]