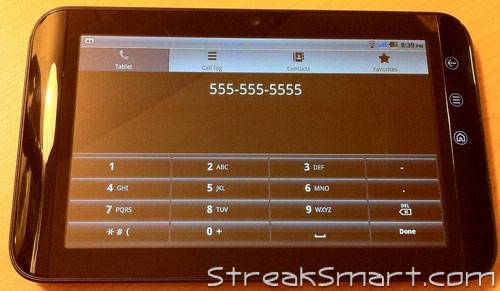 Those in the Android tablet market might be interested in the Dell Streak 7 tablet. The tablet is on T-Mobile for about $200 and is an interesting offering. I would bet that there are some users that would be more inclined to try the Streak 7 if the thing could do voice calls.
Apparently the Streak 7 can sort of do voice calls and the geeks at StreakSmart have made a video to prove it. Apparently, the phone app is hidden away (and with good reason according to the video). When you tap the bar below the keyboard you use the tablet, call log, favorites, and contacts icons will appear and you can input a phone number.
The obvious issue with the hidden function is that it really doesn't work. Calls fail unexpectedly and you can't receive them like you should be able to either. It looks to me like this is just a standard Android feature that made it into the tablet and wasn't meant to be found.
Via StreakSmart