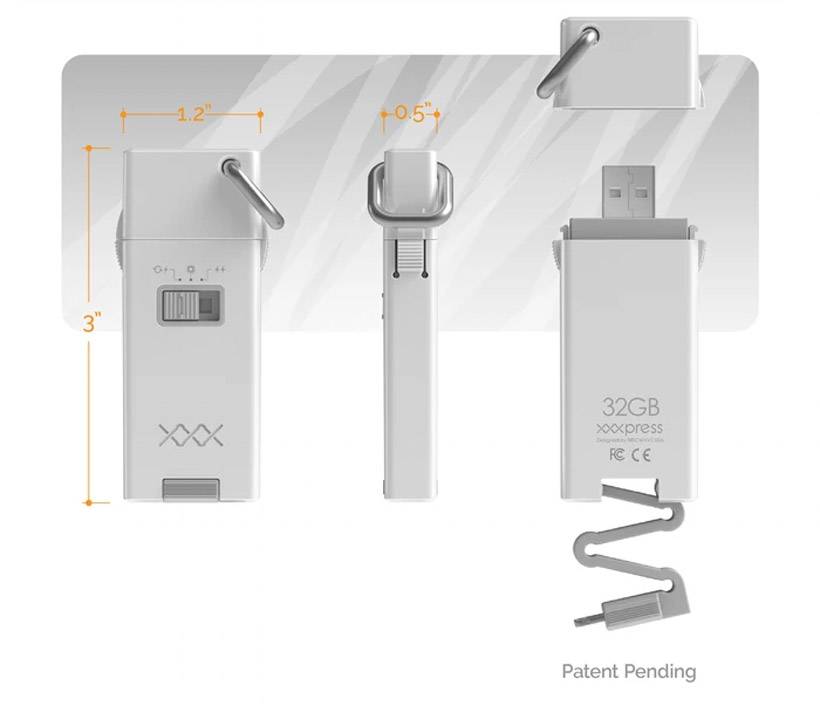 Many people don't go anywhere without a flash drive of some sort on them so they can save and share data when needed. It would be nice to have a fast charger for your mobile phone on you at all times too, but few of us want to have one more thing we have to carry. The Bricwave Xpress combines a flash drive and a fast mobile phone charger into one device making it easy to have both on you at all times.
The Bricwave Xpress measures 1.2″ x 3″ x 0.5″ and has a collapsible and flexible 6-inch charge cable that comes out of the back of the drive. Power is passed from the USB port on your computer to that charge cable allowing you to top off your smartphone or tablet whenever you share data.
The drive uses USB 3.0 connectivity for faster sharing of data. The device promises tech inside that allows it to charge your device much faster than other charge cables. A three-way switch allows you to choose the function between, normal for sync and charging, express for high speed charging, and data backup and managing settings.
In express charge mode data sync and sharing is disabled. The charge cable is designed so that you don't need to remove cases from your device to charge. The Bricwave Xpress is available for Apple Lightning and Micros USB devices. It comes in capacities of 8GB to 64GB and costs $59 to $105 depending on the capacity chosen. The project was seeking $20,000 and has raised a bit over $20,000 with 19 days to go.
SOURCE: Kickstarter
This is a crowdfunded project, and as such may not deliver what its creators initially promise. Most crowdfunding sites, like Kickstarter and Indiegogo, have policies about what happens to your money if the project fails to deliver on its goals, but choosing to back a project is inevitably a risk. Android Community's reporting on crowdfunded projects should in no way be seen as an endorsement, unless specifically stated, and we recommend closely examining the terms and conditions to understand your individual rights as a backer before making a pledge.