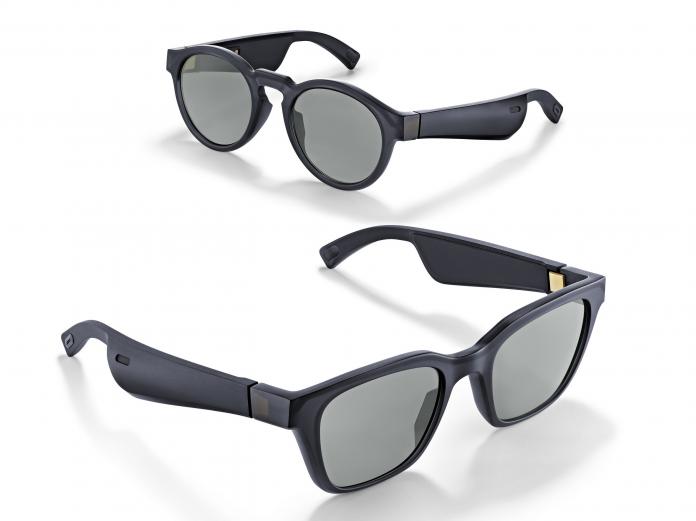 If you don't like having many things in your head area, like sunglasses, a Bluetooth receiver, and earphones all at the same time, you can now do away with the three and have just one pair of sunglasses do all of those functions for you. The Bose Frames is an innovative product that functions not just as a premium pair of sunglasses but also gives you the functionalties of a wireless headphone without the actual headphones. It also has the first audio augmented reality platform.
The Boss Frames obviously look like your typical pair of sunglasses. It comes in two models, the square but angled and the round and slightly smaller version. It functions like most premium shades, blocking up to 99% of UVA/UVB rays and has tinted lenses, gold-plated hinges, charging pins, and other distinct accents. They are also scratch and shatter resistant so even for just the shades themselves, you should get your money's worth.
But of course, it is also a personal audio device just like a wireless headphone, except you don't have any earphones or earbuds or any attached component. The thin acoustic package is installed in the sunglasses' interior arm but they assure that the sound quality is still up to par (or maybe even better) than your normal audio accessories. They describe it as "discreet, jaw-dropping sound" so maybe expect to be pleasantly surprised with the sound quality.
It also has a small microphone and multi-function button on the right temple. You can use it to power your Frames on and off, pair it with your smartphone, call on Google Assistant, take calls and make commands, and pause and skip songs. You can also connect the Frames to the Bose Connect App to get new features and software updates
Lastly, the Bose Frames are the first commercial products that have the Bose audio augmented reality platform. It uses a 9-axis head motion sensor and the GPS from your phone to know where you are to add a layer of audio. It also uses lithium battery so your Frames should last for up to 3.5 hours for regular playback and 12 hours on standby. They will be available in the US starting January at Bose stores and Bose.com. You can pre-order now for $199.
SOURCE: Bose