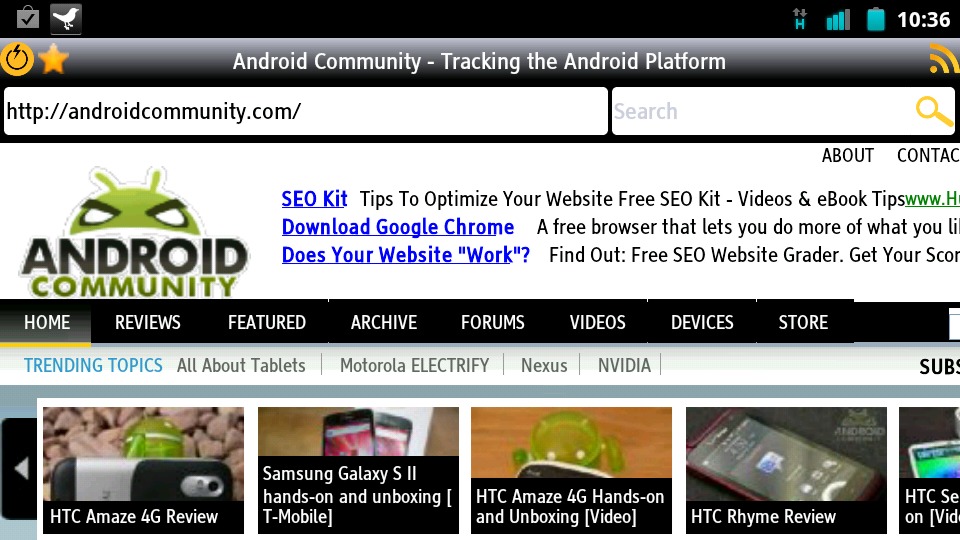 Today the popular browser for Android called BOLT Browser has finally left the private beta and is ready to be bolted into the wild. Just as the name suggests "Bolt" browser is being touted as one of the fastest around and very speedy. Being improved to version 3.0 and finally available for users in the Android Market you can give it a try right now.
The Webkit-based browser claims that website loading times can be 25% – 50% faster than its competitors and that they offer the fastest web page load times on any Android device. With features such as Social tags and always-on access to Facebook and more this browser is both fast, and social. With flash and HTML compression, tabbed browsing, URL auto-complete, a download manager, web history, cookies, option to save page images to view offline and more.
With tons of options outlined above you can also choose image and video quality for better load times. They even offer pinch-to-zoom and RSS support. The browser has a decent array of options and settings and they claim to have a modern user interface. Personally I feel the entire UI is very outdated and could use some serious polishing, just look at Dolphin.
We do have a customizable home screen with the popular "panel" interface for favorites and bookmarks, they didn't seem to want to be re-arranged for me and I had to delete them all to get what was important at the top, it does come with popular sites pre-loaded like GetJar for Android Apps, ESPN GO, Facebook and a few others so that was a nice touch although nothing we haven't seen before. So far personally the experience has been a bit "meh" for me.
Next up I want to mention speed. They tout this as the fastest browser for Android with the quickest load times, and I either am crazy or they are still working to improve things because I experienced no such speeds. Android Community.com took well over 15 seconds to load, every time, and others took slightly less but depends on flash heavy content of course. Nothing seemed extremely snappy or fluid for me and I'd much rather just use the standard browser — or better yet, Dolphin. With compressed pages and flash the amount of data being used by BOLT will be much lower than other browsers so this is one area where data conscious users will benefit. Obviously BOLT Browser is still in its beta stages and has just been released out of private beta today so we should expect a few bugs or issues to still need working out. For now, personally, I'll wait until they improve things a bit more.
Give BOLT Browser a try and let us know what your results are like in the comment section below. You can get it from the market right now by clicking here.
[via BOLT Browser]