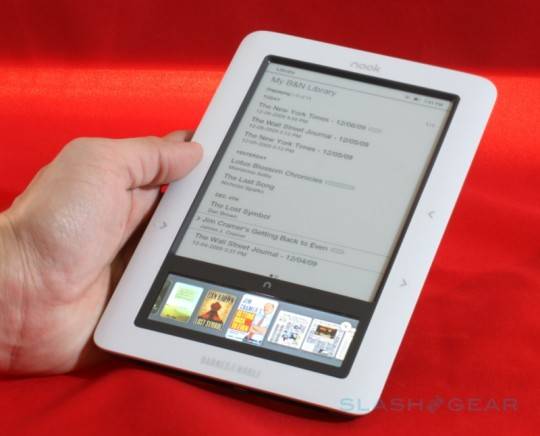 While the original NOOK eReader has just received a pretty big update of its own, Barnes & Noble wasn't going to let their Android version of their popular eReader application miss its own update. So thankfully, the company has officially pulled the curtain off the latest update for the NOOK for Android eReader software. It's available now, and the software version is 2.4.
The update will let you browse the NOOKbook Store from any Android-based device with the application installed on it. What's better, though, is that NOOK for Android users will now be able to make notes within any particular book they might be reading, as well as make highlights. The software is available in the Android Market right now, so you should probably already have started downloading it.
Press Release
NOOK eReader Firmware Update v1.5

As previously announced, Barnes & Noble is making the largest-ever update to NOOK 3G and NOOK-Wi-Fi firmware, which is now available. The update delivers the most-requested features and performance enhancements from NOOK customers, including:

· New Features

o Sync current reading position across devices. Sync across all NOOK eReaders and devices enabled with NOOK software and apps, including iPad, iPhone/iPod touch, Android smartphones and PC.

o Customize folders and group content for My B&N Library. The My Shelves feature enables users to organize B&N Libraries by a particular subject or theme, on easy-to-organize, easily-accessible Shelves .

o Password protection option for purchases made on a NOOK device. Customers can require their Barnes & Noble account password be entered before NOOK authorizes any content download (purchases, samples and free books). This is a helpful feature customers requested for NOOKs that are shared among family members, students in a class and company employees).

o Pass code security for the NOOK. Customers can configure NOOK to lock the screen after a certain number of minutes and then require a pass code to unlock it. The pass code security feature will activate each time the NOOK does powers on, awakens form Sleep Mode.

· Enhancements

o Faster page turns. Customers can enjoy a 50% faster turn rate than the previous version.

o Improved search functionality that includes My Documents (side-loaded content) in the results.

o Additional battery and other performance enhancements

NOOK version 1.5 software is available at no cost to all current and new NOOK owners via Wi-Fi or manual download at www.NOOK.com/support. You'll find images and additional information about NOOK at www.bn.com/nook/media.

NOOK for Android v2.4

NOOK for Android v2.4 adds makes it even easier for customers to quickly browse and download new great reads from the NOOKbook Store with in-app shopping. Browse more than 2 million digital NOOKbooks and more from the NOOK for Android app, and with a couple of taps, your title or sample is downloaded and ready to read on your Android smartphone or across the complete line of NOOK devices and software.

The updated NOOK for Android also gives customers the ability to take notes and make highlights in their NOOKbooks. These highlights and notes will also sync on other NOOK apps and devices.

More information is available at www.bn.com/NOOKforandroid or download the new version from Android Market. We'll continue to provide you with news of NOOK device and software updates.