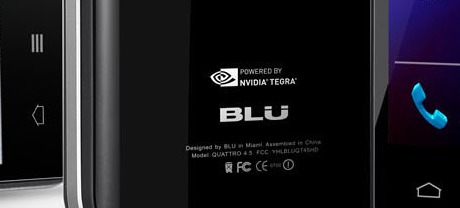 BLU has some big plans to shake up the smartphone space, today introducing a new line of smartphones that come complete with NVIDIA Tegra 3 processors. The new series is called Quattro, and though it may not sound like anything special, one of the big draws of the line will be that the phones are offered unlocked at a rather inexpensive price. There are three devices in all: the Quattro 4.5, Quattro 4.5 HD, and Quattro 5.7 HD.
As you might have guessed, those numbers in the device names reference the screen size. With the Quattro 4.5 HD, you'll have a 4.5-inch HD display boasting 326ppi. The screen takes advantage of BLU's "Advanced Super Display" technology, which should result in sharp visuals and excellent viewing angles. That screen is protected by Corning Gorilla Glass, while the processor (which is clocked at 1.5GHz) will be working alongside 1GB of RAM and users will have 16GB of internal storage at their disposal. Couple that with an 8MP camera, and you should have a pretty decent phone on your hands. The Quattro 4.5 HD ships the first week of February for a price of $349.
The standard Quattro 4.5 is somewhat similar to the HD variant, keeping the 4.5-inch screen and 1.5GHz Tegra 3. However, the screen resolution has come down to qHD, while the camera has gone down from 8MP to 5MP. There's still 1GB of RAM on board, but internal memory is down to 4GB. Thankfully, users will be able to expand that internal memory by up to 32GB with the included microSD slot. The Quattro 4.5 will similarly be shipping in the first week of February for $100 less than its HD sibling.
Finally, we come to the Quattro 5.7 HD, which as you can imagine has an absolutely massive screen. That 5.7-inch screen is displaying at 1280 x 720 resolution, with the phone featuring an 8MP camera, 1GB of RAM, 4GB of internal storage, and a microSD slot. The phone comes in at $299 – $50 less than the Quattro 4.5 HD despite the larger screen size – and won't be available until the end of March.
All of these phones will sell unlocked, which means you won't be stuck signing a contract. Each phone in the series will include "quad-band GSM and penta-band 21Mbps HSPA+, including 1700MHz AWS for the US," so it sounds like you'll get to pick between AT&T and T-Mobile as your carrier. It's worth pointing out that while each will be running Android 4.0 Ice Cream Sandwich out of the box, BLU plans on upgrading the phones to Android 4.1 after release. All in all, they don't sound too bad, and we think the fact that they have low price tags and come unlocked will entice some customers in. Are you tempted?
[via HPC Wire]