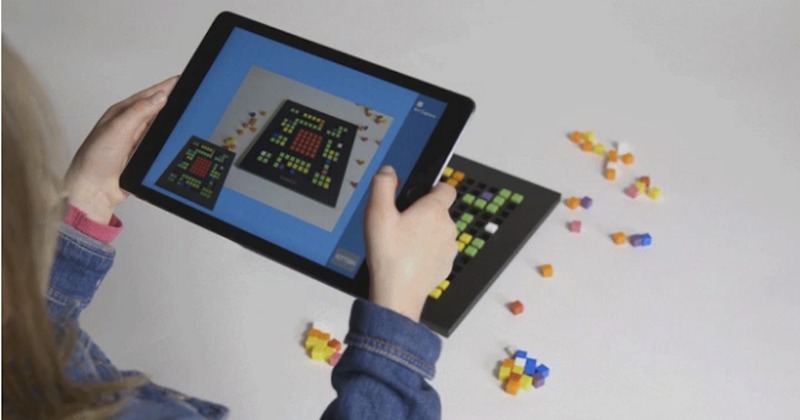 Geeks who grew up playing Lego understand the Minecraft craze and any other games similar to it. Well, I still don't get Minecraft for the simple reason I easily get dizzy. That's lame I know but if I were to build my own game, I'd try the Bloxels first by building blocks and then playing the game on screen. This Kickstarter project requires the player to play video games with blocks positioned by his own hands.
Using real physical blocks, you can build and customize video games for any tablet or smartphone. Simply create a layout on the gameboard, take a photo of it, customize on the app, and then challenge friends to play the game with you. You can earn coins and gems to unlock tools or move to a larger environment. Game can be fun for every age but game developers said it's recommended for those 8 years old and above.
Pixel Press, the team behind the Bloxels, still have 28 days to finish fundraising but more than half of the goal have already been reached–all from more than 300 backers. The first game especially designed for this is 'B.R.A.V.E. Squad' which is based on classic dungeon-crawlers and action RPGs.
How does this work exactly? Think of it this way, instead of depending on technology all the time, you can build a digital game based on the physical walls, villains, turrets, coins, and other elements you position on the gameboard. The board does recognize the blocks and you can just complete a game by adding those elements. Your own video game design will soon be available on the BRAVE Squad app.
With Bloxels, you are both the creator and the player. I like the idea of Bloxels allowing the players to add elements to the board but anyone could use the idea and make another version that allows you to build the game right on the screen. No need to capture the image because the virtual gameboard will be converted to a digital version soon.
If you think this project should become a reality soon, you can send in your pledge to Kickstarter.
SOURCE: Kickstarter