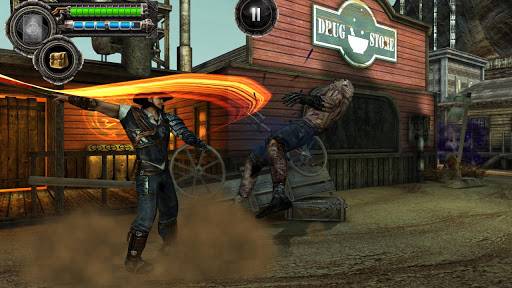 There is a brand new wild wild west action game available for Android today, and it's called Bladeslinger. You won't be robbing banks or running from Indians with this one either. Instead you'll play a blade-wielding cowboy that returns home to find his town overrun with monsters and ancient evil demons. Originally a Tegra 3 quad-core exclusive game, but today is available for all.
We've been waiting for this game to arrive for sometime now and it was originally shown off back in December of 2011 when the Transformer Prime launched, listed as coming soon to an NVIDIA Tegra 3 device near you. Fast forward to today, the game has now arrived on the Google Play Store (and TegraZone) with support for almost all fairly new and capable devices, not just Tegra tablets.
The premise is quite simple. You play a tough and rugged cowboy William Glaston who returns to his hometown to see it's been overtaken by ancient evil monsters and demons and you must fight your way through. Armed with a revolver pistol that neatly has a machete attached. You'll be shooting and slinging that blade through hoards of enemies.
The graphics are rather impressive and features all sorts of next-gen effects. Real-time lighting, water effects, lifelike physics, and much more. Not all the graphics will be enabled unless you have a Tegra device, but the game still looks incredible for most devices. Add in the intuitive touch controls you'll be slashing your way through evil demons in no time.
For me it appears to be compatible with most recent dual-core devices. Some of those include the Galaxy Nexus, RAZR HD, some Archos tablets, and almost every new quad-core smartphones and tablet available today. The graphics are stunning and gameplay is inviting and addicting. Give it a try today for $2.99 from the Play Store link below.
[via Play Store]