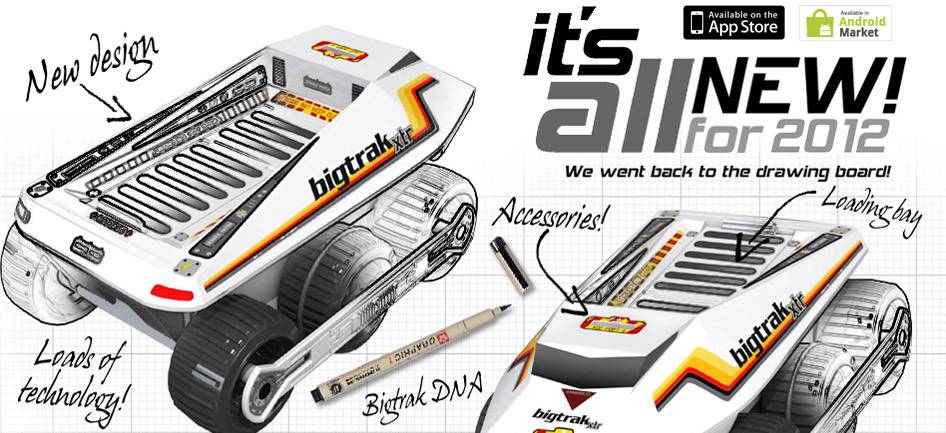 If you prefer your remote operated vehicles to be ground-based, get ready for some fun. Manufacturer Zeon Tech has unveiled its newest R/C gadget, the Bigtrak XTR, a plus-sized version of its standard model that includes control and sync via Android or iOS. The big boy toy will be available some time in 2012, unfortunately leaving a parking spot vacant under this year's Christmas trees.
Looking a lot like a Mass Effect Mako with a bombastic 1980s color scheme, the Bigtrak includes a lot of advanced features for the dedicated tinkerer. If you don't want to control the rover with your smartphone's Bluetooth, you can do it with a full PC, or even programmable controls on the toy itself.  A control pad on the bed allows you to program specific actions, and an accessory port allows for expandability via add-on modules. Zeon Tech is currently showing off a webcam add-on for the proprietary port, plus canons and foam missile launchers – the six-year-old inside me just squealed with delight.
Check out the video of the Bigtrak XTR in action below:
There's no word on pricing, but given that the standard model based on the classic toy is retailing at just over $100, it won't be cheap. Expect anywhere from $200-$300 when it launches next year. That's good bit less than the Parrot AR Drone, and though the Bigtrak doesn't fly, it's also a heck of a lot harder to crash – an important consideration when you're spoiling the hell out of some lucky kid.
[via Technabob]