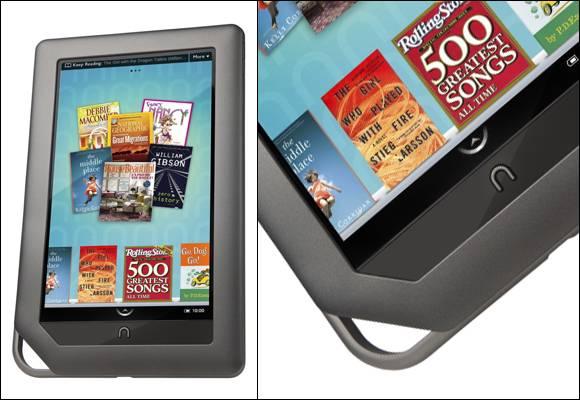 Hooray! It's real! Today's Barnes & Noble "Very Special Event" has turned out to be exactly what many were predicting: the presentation of the color version of the Nook, called correctly: "Nook Color." It's focused very hard on the books, magazines, and newspapers aspect, but opens up a bit as they do present the fact that it's got a web broswer, Office document viewer, games, sharing options through Twitter and Facebook, and even a few exciting apps.
Specs for the hooked wonder are thus: 8.1 x 5.0 x 0.48 inches and 15.8 ounces. microUSB port for book transfer and power charge. 3.5mm jack headset plug. MicroSD expansion card slot. Mono Speaker. 7 inch VividView capacitive touch screen at 1024×600 resolution. 8GB internal memory. 802.11 b/g/n WiFi for ebook purchases and browsing. And a hook! It's funny how even though this pad is full of new features and a touchscreen and all that good stuff, I find myself enthralled by the idea of that open spot in the lower left, certainly in place for such uses as, say, a public library chaining it up to a reading station?
The device, designed in part by Yves Béhar (industrial designer and founder of Fuseproject,) boasts a 16 million color display courtesy of LG's Vivid View. Nook Color holds 6 thousand books out of the box. Daily Chef displays all your newly released newspapers, books, and etcetera, and there's a tiny packet of apps available already including Pandora, music, sudoku, chess, and a few more.
This lovely device will be shipping on or around November 19, available for pre-order right this moment, and it'll cost $249. Cheep!
[Via SlashGear]