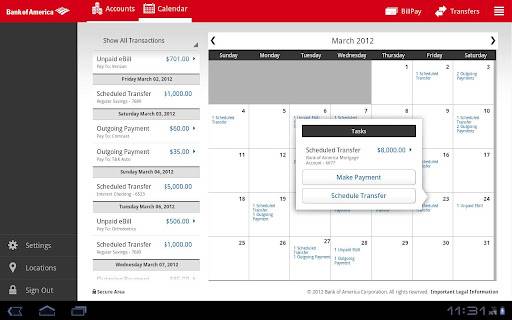 Oh man, sadly I have to admit I've been waiting for this to arrive for some time now. Bank of America has just released their new Android application for Android 3.0+ tablets and it is available today in the new Google Play Store (previously the Android Market). Bringing their full mobile banking solution to the big screen and tablets. More details after the break.
Now users can enjoy an enhanced banking experience, customized and optimized for their tablet. BofA is the first big bank to offer a tablet application for Android so I'm happy to see this finally arrive. I'm always sitting on the couch at night and occasionally going through bills this will surely come in handy.
Just like the app for smartphones you can check balance, transfer funds, pay your bills, find closest ATM and banking centers and more. You can check outgoing payments too. Everything has been increased in size and they have an easy to understand tile layout that works great on the larger displays of Android tablets. Now all we need is for Bank of America to allow us to take pictures of checks for instant deposits and I'll be happy.
Get the new Bank of America app for Tablets from the Google Play Store below.
[via Android Police]