If you want your wireless speakers to not look like wireless speakers and actually blend in with the furniture, Ban & Olufsen's newest portable ones will probably appeal to you. Simply named BeoSound 1 and BeoSound 2, the two are "ultra flexible" and can be placed anywhere in your house where you want the music to be naturally and seamlessly heard, with a 360-degree "spherical sound magic" experience combined with the quality you expect from bigger speakers.
The two speakers use the Acoustic Lens Technology that B&O have used on their previous bigger products. It is actually located on top of the speakers that is why they are slightly open and the conic bodies are actually slightly hovering above ground but their sturdy but elegant aluminum design keeps them grounded, so to speak. The conical design makes them look more like a speaker and so you will be able to place it anywhere you want, like on a shelf, by your work table, and even on the floor.
The main difference between the two is that the BeoSound 1 is lightweight and battery-driven while BeoSound 2 is bigger and needs a power connection to function. For the BeoSound 1, there is a small groove under the top so you can grip it better when carrying it around. BeoSound 2 of course sounds more powerful and has a clearer and more distinct sound. Both can connect to their sources through Google Cast and Bluetooth.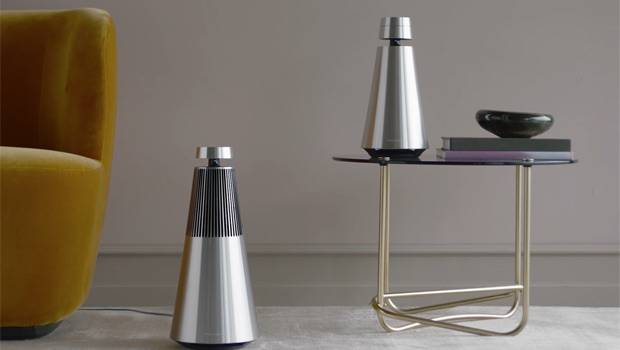 BeoSound 1 will cost you $1495 and is available at stores now. BeoSound 2 is priced at $1895 and will be available by the end of October.
SOURCE: Bang & Olufsen