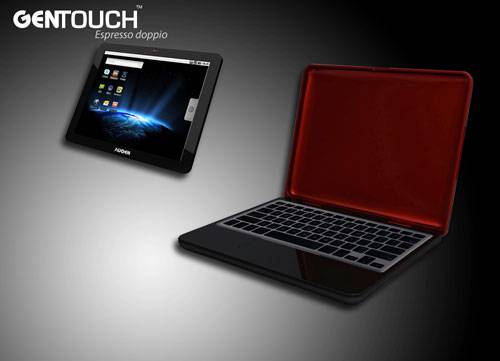 Augen will toss six new tablets onto the market with screens from 7-inches to 10-inches in size with prices running from $199.99 to $599.99 and all will use Android 2.2. The tablets will also all support Adobe DE DRM. The 7-inch units include the Latte and Latte Grande and both will pack WiFi, HDMI out, 2GB of storage, and a SDHC card slot. The normal Latte has a 7-inch 800 x 480 screen and a stylus for $199. The Grande version has a 7-inch multitouch screen and an 800MHz CPU, 800 x 600 screen, compass, light sensor, and an accelerometer for an extra $50 over the base version.
The Espresso will have support for Android 3.0 and pack in WiFi, Bluetooth, a 3MP camera, accelerometer, compass, and light sensor. The most basic Espresso has a 7-inch 800 x600 screen 1GHz cortex A9 CPU, 8GB of flash storage, microSDHC card slot and will sell for $349. The Espresso dolce will pack in a 10.2-inch screen that is multitouch capable with 1024 x 768 resolution, a 1GHz A9 CPU, 8GB of storage, and microSDHC for $429. The Espresso Doppio is a netbook style tablet convertible with dual booting of Android and Ubuntu, a 10.2-inch screen, 1GHz CPU, WiFi, Bluetooth, 8GB of storage, dual USB ports, trackpad, 160GB HDD, and HD capability for $599.
The final model is the Espresso Firma with a 7-inch screen 600MHz dual-core CPU, Bluetooth, WiFi, 2GB of storage and a price of $349. The machine is crammed into a portfolio that looks like a notepad with paper on one side that is supposed to send what you write to the tablet automatically.