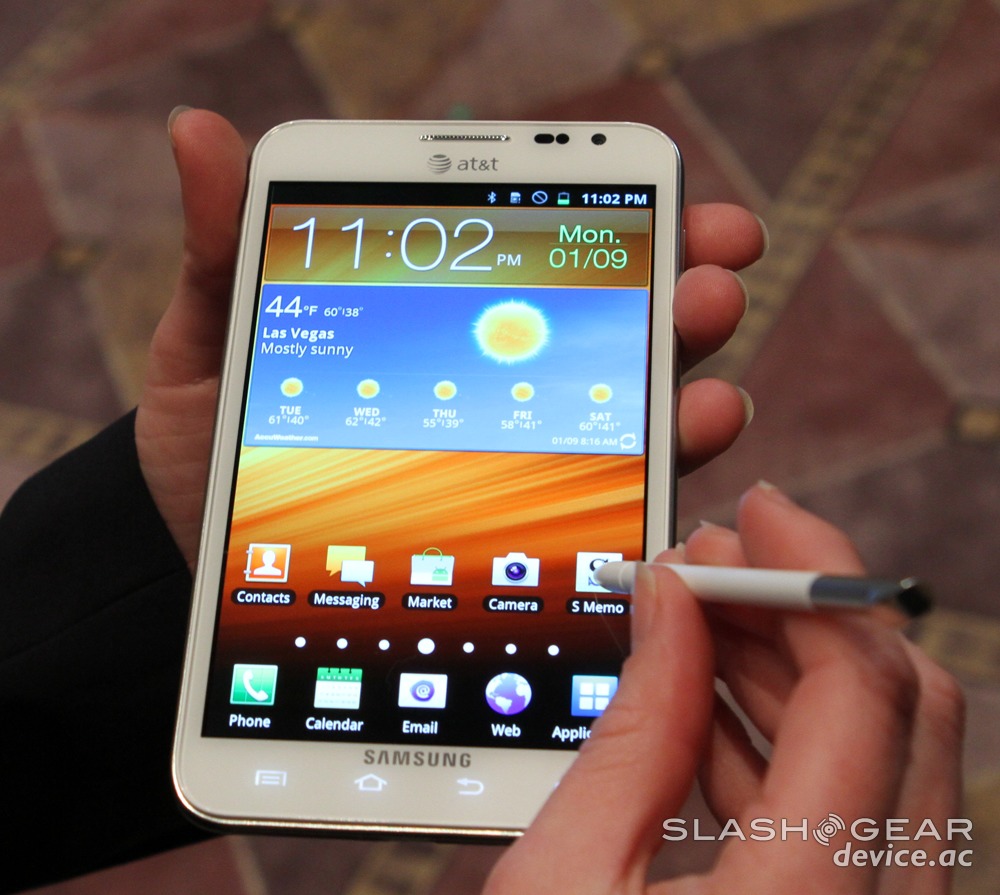 Coming to AT&T soon is the Samsung Galaxy Note that we've all seen plenty of lately. AT&T will be selling this 5.3″ AMOLED HD packing smartphone in both black and white variants. While roaming at CES we were able to get a few quick pictures and video of the white version of the AT&T branded LTE Note for those interested. Check out more pictures after the break.
If you didn't have a clear idea of the sheer size of this smartphone/tablet hybrid that picture above should settle any last thoughts you may have had. It's large, very large. The AT&T Galaxy Note will be rocking their 4G LTE and come with a 1280 x 800 resolution 5.3″ Super AMOLED HD display. A 1.5 GHz dual-core processor, Android 2.3 Gingerbread and that awesome little stylus they are calling the smart pen. You all should know plenty about the Note by now so instead I'll let you enjoy the photos we snapped real quick.
The obsession with white colored phones is continuing strong here in 2012 with Samsung unveiling this, the Galaxy Nexus and the Galaxy Tab lineup all with white models coming soon. Pictures and details on all of those are available from our timeline below. Our sister site SlashGear already reviewed this awesome device, only the GSM international version instead of an LTE one. We'll be sure to get this phone in for a full review as soon as it hits the shelves at AT&T. In the meantime enjoy all the photos from our gallery below and check out the full review via SlashGear for more details on this huge device.
As soon as AT&T announces an official release date we'll be sure to update with all the details.