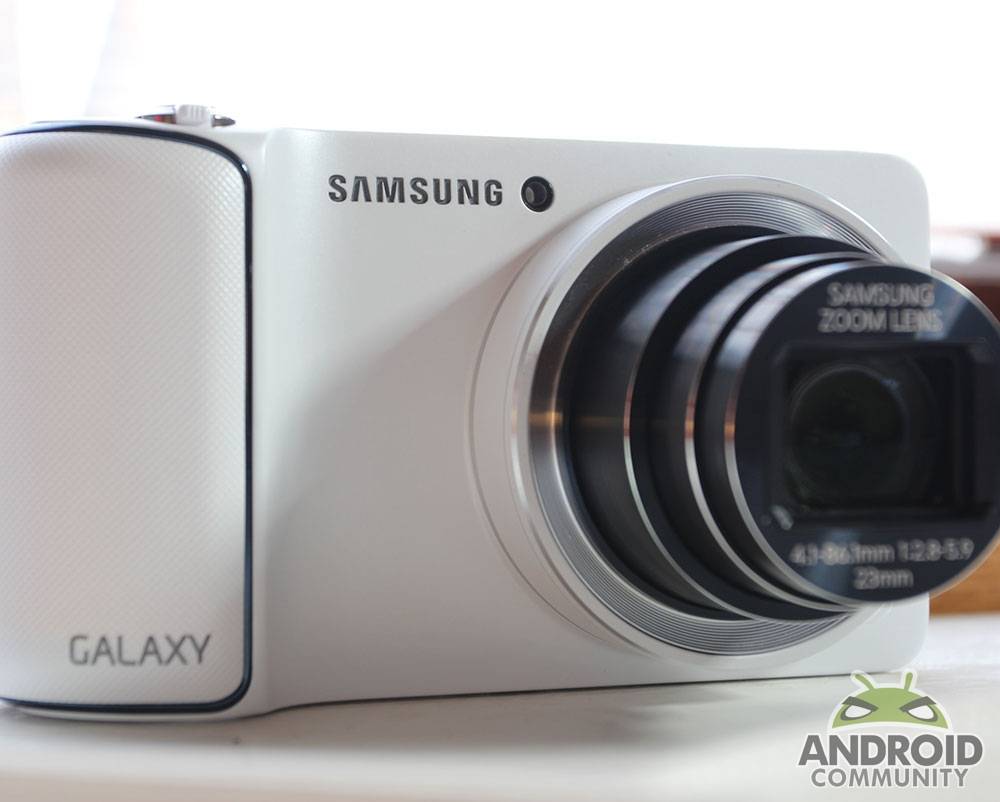 It's time to get down to business with the Samsung Galaxy Camera as you'll be picking it up from your local AT&T retailer soon, and very soon. As it turns out, this device is essentially the same model you'll be getting if you're purchasing the device internationally – innards and all. there aren't even any AT&T logos on the device, as it were, with this machine appearing in your hands fully Samsung-friendly. What we're going to do in the review below is take a unique look at this device as it is brand new to the Android universe – less on the smartphone end of things (since it's not a smartphone, mind you), and a lot more on the photography angle.
Hardware
This device goes by the full name Samsung Galaxy Camera EK-GC100 and is listed in some places with the ability to go full 4G LTE – that's simply not true (not at the moment, at least.) AT&T specifically lists it as 4G, but not LTE – here instead working with the "4G" that came before LTE for AT&T, that being HSPA+. You'll also see HSDPA quad-band and international abilities as well – and you could potentially run it with a T-Mobile SIM card if you wanted, too. Beyond that, it's a lovely camera made to take all the greatness that's been coming up in the Android smartphone world and apply it to a device that's – again – primarily a photography machine.
This device works with a fabulous Super Clear LCD display on the back thats 4.7-inches diagonally and has 720 x 1280 pixel resolution – that's 306 PPI, just under the Nexus 4 which works with 320 PPI, and the Galaxy Nexus which has 316 PPI (though pentile in that case, with subpixle action.) Here you've got a giant pane of Gorilla Glass 2 on the back and TouchWiz under the hood working with Android 4.1 Jelly Bean.
You've got 8GB of internal storage and a microSD card slot that's able to take up to a 64GB microSD card for additional storage. You're working with a fabulous quad-core Exynos processor here (that's 4412 in this case) as well as a Mali 400MP GPU. The primary camera here (and only camera, mind you) has 16 megapixels to its name, 21x optical zoom, AF light, and a pop-up Xenon flash. Features include a wide-angle 23mm lens and 1080p video recording at 30fps.
This device will eventually be coming in Black, White, Pink, and Orange – we can't wait to see how insanely bright that's going to be, of course. The battery is a 1650 mAh lithium ion removable unit that's been working exquisitely well, especially since it's running a much more power-intensive machine than your standard smartphone. Taking photos and videos all the time is no joke, neither is transferring massive amounts of data with each snap – you'll be inclined to share everything automatically, of course, as that's the greatest part of this puzzle.
The Galaxy Camera is extremely light and made of plastic and glass primarily, but feels extremely high quality and comfortable to use. It will certainly take some getting used to for those of you that have never used a touchscreen interface with a camera before, but you'll be glad you made the effort.
User Interface
This device works primarily with a touchscreen interface, much like a smartphone – but the button you'll be using more often than any other is the shutter. Just like every other beast of a camera you've ever used, you're still taking photos here with a real physical piece of equipment – the touchscreen exists only to help you grab the best images you possibly can. Have a peek at this hands-on video we've prepared for you to get a grip on what you're working with here.
The Samsung Galaxy Camera is extremely easy to use. If you've never used Android before, you'll have a slightly more difficult time – but it's not difficult to use this device. Android is the brain here, not the user interface – the user interface reflects the simplest controls you've ever used on a digital camera. They're much more intuitive here too than you've ever seen before. The standard digital point-and-shoot camera today is silly and simple, with controls that rely on the user wanting to make use of "portrait" or "auto" and that's it – this is not that silly standard mindset-toting device.
The Samsung Galaxy Camera brings an extremely mature user interface to the digital camera market, making sure that you get a great experience taking photos and video be you a newbie or a veteran photography, all the same. Expert mode is just as easy to work with as Auto and the collection of "Smart" effects which, unlike many lesser cameras, actually create high-quality photos – not just "photoshopped" nightmares.
After you've taken your photos and video, Android with Samsung's TouchWiz is ready to back you up with an ever-so-slightly modified user interface made for this primarily horizontal device. You can still flip the camera up to portrait orientation and see everything as you might on a Samsung Galaxy S III, but here Samsung is ready to deliver any which way you choose. You get a standard set of Samsung, Google, and AT&T apps right out of the box – this being the one other unique feature that AT&T has added here other than the connectivity with their network.
Benchmarks
This device may not be built for gaming or entertainment (depending on how you look at it), but it's certainly got the horsepower to be that kind of a device. Have a peek at how the benchmarks and speed tests bring this device up to a competitive range with the top-tier devices on the market today – but don't quite add up as well if you're planning on LTE action any time soon.
Photo and Video Examples
The following shows a collection of situations as well as "Smart" feature implementations that you'll want to judge, be they a maker or a breaker of your decision to purchase this camera. First up is a rather standard outdoors shot with "auto" on and nothing extremely special about the environment. After that, each item will be as marked.
Silhouette:
Macro:
Low Light (auto, then "Nighttime" shot):
Video Capture Photos (shot while video was being filmed):
HDR (without HDR and with, both saved to the camera automatically):
Sunset:
Action Shot:
Auto Video 1080p 30FPS:
Wrap-up
In short: the Samsung Galaxy Camera is a big win for Samsung, bringing a great mix of what their cameras without Android are able to bring to the party with all of the greatness of their Galaxy line of smartphones. This device is indeed a connected camera rather than a smartphone that just happens to have a great shooter, and with this assimilation comes a relatively new (though not entirely unique) product.
Samsung is not the other only bringing an Android-powered camera to the market, but this certainly is the first big name in such a category. The Galaxy Camera is everything we want in not only a digital camera, but a Samsung Galaxy family device as well – connect away!
[device id="3366″]