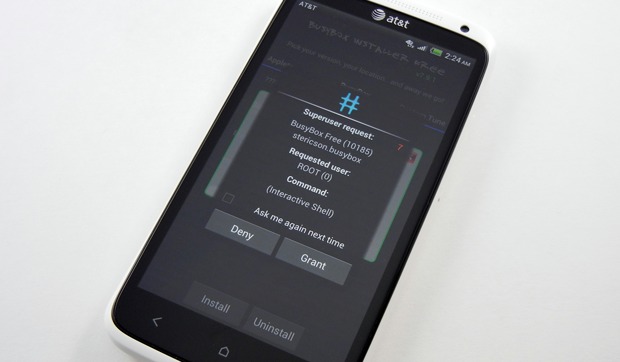 AT&T customers are still pretty upset at the arbitrary locked bootloader on the HTC One X, but at least they can do some basic modifications: root has been achieved. XDA Developers member Kenneth Penn has posted a one-click root solution for the LTE version of the One X, and it should also work on the phone headed for Canadian carrier Rogers as well. You'll need a Windows PC and a basic understanding of Android, but as far as root process go, it's relatively easy.
The difference between gaining root and getting an unlocked bootloader is an important one: while root access gives you control of the software, an unlocked bootloader will give you control over the entire phone. (That's not a strictly accurate summary, but as Terry Pratchett says, it's a useful lie.) Rooted phones enjoy the capability of running advanced applications and removing unwanted software permanently via access to the files on the phone's protected storage.
Not that custom ROMs are impossible without bootloader access. Now that root has been achieved, someone is no doubt working feverishly at getting a custom recovery prepared and starting on a slightly cleaner version of HTC's Sense skin. But to make major modifications (notably for newer versions of Android) a modified kernel is necessary, and that's not currently possible. Efforts continue, but community attempts at unlocking bootloaders have met with mixed results in the past.
[via Mobiputing]
[device id=2325]