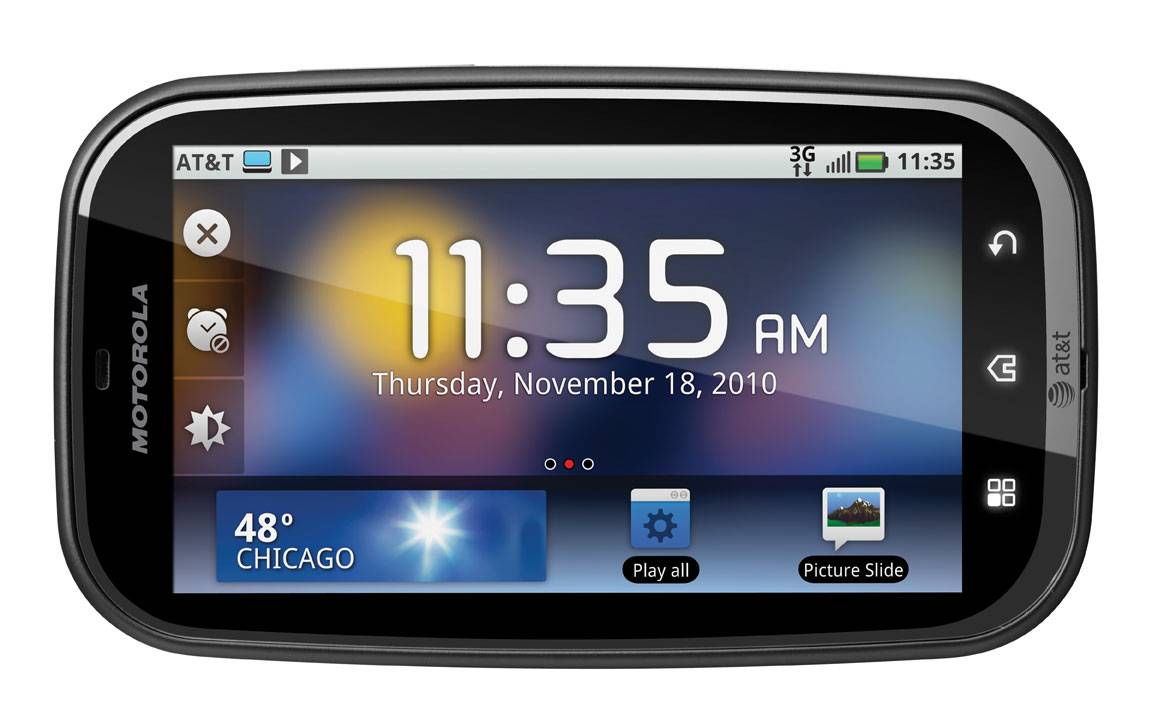 AT&T has picked up three Motorola smartphones, including the Motorola FLIPOUT which has already been available for some time in Europe, and two new devices, the full-touchscreen Motorola BRAVO and the QWERTY-blessed Motorola FLIPSIDE.  The BRAVO has a 3.7-inch WVGA touchscreen and a 3-megapixel autofocus camera, together with an 800MHz processor and DLNA support.
All three have Android 2.1 and MOTOBLUR.  Meanwhile the FLIPSIDE has a 3.1-inch HVGA touchscreen, a trackpad for navigation, and a slide-out QWERTY keyboard.  The FLIPOUT will drop on October 17 from $79.99, while the AT&T Motorola BRAVO will be $129.99 and the AT&T Motorola FLIPSIDE will be $99.99 when they arrive in time for the holidays.  No rebates are required, but you will need a new two-year agreement including a data plan.
Press Release:
AT&T Expands Android Portfolio with Three New Motorola Smartphones

Motorola BRAVO(TM), FLIPOUT(TM) and FLIPSIDE(TM) Smartphones Powered by Android Coming Soon to the Nation's Fastest Mobile Broadband Network

Key Facts

AT&T* today announced it is significantly expanding its portfolio of Android devices by introducing three new smartphones powered by Android™, the Motorola BRAVO, FLIPOUT and FLIPSIDE, from Motorola, Inc. (NYSE: MOT).
All three smartphones pack the power of the Android 2.1 platform and the latest version of MOTOBLUR, Motorola's exclusive smartphone experience.
MOTOROLA FLIPOUT™ will be available for $79.99 with a two service agreement and 2 year smartphone data plan beginning October 17 in AT&T stores, online and in business channels. (No rebate required)
MOTOROLA BRAVO™ will be available for $129.99 with a two service agreement and 2 year smartphone data plan in AT&T stores, online and in business channels by this holiday period. (No rebate required)
MOTOROLA FLIPSIDE™ will be available for $99.99 with a two service agreement and 2 year smartphone data plan in AT&T stores, online and in business channels by this holiday period. (No rebate required)
In a move that further strengthens its industry-leading smartphone line-up, AT&T today introduced three new Android-based smartphones from Motorola. The powerful new devices give AT&T customers even more choice when selecting a mobile computing device to use on the nation's fastest mobile broadband network. AT&T will have eight Android devices available to customers once these smartphones arrive in stores.

All three new smartphones feature Wi-Fi® connectivity, and qualifying AT&T customers receive access to the entire AT&T national Wi-Fi network included as part of their data plan. AT&T's has the nation's largest Wi-Fi network with more than 23,000 U.S. hotspots.

MOTOROLA BRAVO™

BRAVO offers the power of Android, an 800 MHz processor and a large screen all in a compact design. The device features a 3.7-inch full WVGA touch screen experience, enhanced Web-browsing and entertainment while on the go. With a 3-megapixel camera with digital zoom and auto focus, customers can catch memorable moments to share with one-touch social media uploads to Facebook®, MySpace, Picasa™ and PhotoBucket®. Motorola BRAVO is a Digital Living Network Alliance (DLNA®) enabled device, so customers can stream, store and share entertainment with multiple devices around the home—including PCs, TVs and other mobile devices using an existing home Wi-Fi network. Get all the MOTOROLA BRAVO™ details at http://att.com/bravo.

MOTOROLA FLIPOUT™

MOTOROLA FLIPOUT delivers an enhanced user experience, with a stylishly square, affordable and innovative pivot design. FLIPOUT whips open to reveal a full keyboard below its touch screen with a dedicated fifth row for numbers. Users can customize the color to match their mood with Dark Sapphire and Saffron battery covers included in the box for personalization. Additional colors will be available for purchase in AT&T stores and online. Get all the MOTOROLA FLIPOUT™ details at http://att.com/flipout.

MOTOROLA FLIPSIDE™

MOTOROLA FLIPSIDE enables users to seamlessly manage their work and personal life. With a full slide-out QWERTY keypad, FLIPSIDE's 3.1"-inch high-res HVGA display supports pinch to zoom gesturing, while the laptop-like track pad provides an alternative way to navigate with one hand while keeping your fingers off the screen. Users can stay connected to work with full push corporate e-mail, support for Microsoft® Exchange, unified inbox and enhanced features for IT compliance like remote wipe and password enforcement. Get all the MOTOROLA FLIPSIDE™ details at http://att.com/flipside.

Enhanced MOTOBLUR

MOTOBLUR is Motorola's exclusive experience that syncs contacts, posts, messages, photos and much more — from your favorite social media sites, work and personal e-mail, and last.fm — and automatically delivers them to the home screen. MOTOBLUR can locate or remotely wipe lost or stolen devices, MOTOBLUR can also automatically restore a user's contacts, log-in information, home screen customizations and e-mail with one username and password.

The new and enhanced MOTOBLUR functionality and features include:

Filter social networking and Messages widgets – filter by social networking account, by contact(s) or by contact group to only see the information you want.
Screen customization – move and resize preloaded widgets on up to seven home screens
Battery Manager – manage battery consumption by operating in one of three performance modes
Personal and Corporate e-mail – pushed directly to the device
Improved social networking functionality – Retweet, like Facebook comments and more
Quotes

"We want nothing less than the best smartphone line-up on the nation's fastest mobile broadband network," said Michael Woodward, vice president, Mobile Phone Portfolio, AT&T Mobility and Consumer Markets. "These diverse new Android devices from Motorola add diversity to our Android platform and provide more options for our customers."

"Motorola is committed to offering consumers phones that work best for their lifestyle. These three new devices each have a new unique take on the typical smartphone," said Alain Mutricy, senior vice president, portfolio and device product management, Motorola Mobility, Inc. "Plus, the latest enhancements to MOTOBLUR not only allow users to easily stay connected with their networks but better filter so they can focus on the people and information that means the most to them."

1 Prices listed above require a 2-year service agreement and smartphone data plan.
2 Mobile Broadband/3G coverage not available in all areas.
3 Limited-time offer. Other conditions & restrictions apply. See contract & rate plan brochure for details. Subscriber must live & have a mailing addr. within AT&T's owned wireless network coverage area. Up to $36 activ. fee applies. Equipment price & avail may vary by mrk & may not be available from independent retailers. Early Termination Fee: None if cancelled in the first 30 days, but up to $35 restocking fee may apply to equipment returns; thereafter up to $325. Some agents impose add'l fees. Smartphone Data Plan Requirement: Smartphones require a DataPlus (200MB) or DataPro (2GB) plan. If you exceed your initial data allowance, you will automatically be charged an additional $10 for each additional 1GB provided on DataPro or an additional $15 for each additional 200MB provided on DataPlus. All data allowances, including overages, must be used in the billing period in which the allowance is provided or they will be forfeited. For more details on Data Plans, go to att.com/dataplans Sales tax calculated based on price of unactivated equipment.
4 Largest Wi-Fi based on company branded and operated hotspots. Access includes AT&T Wi-Fi Basic. Wi-Fi enabled device and qualifying data plan required. Other restrictions apply. See attwifi.com for details and locations.

*AT&T products and services are provided or offered by subsidiaries and affiliates of AT&T Inc. under the AT&T brand and not by AT&T Inc.