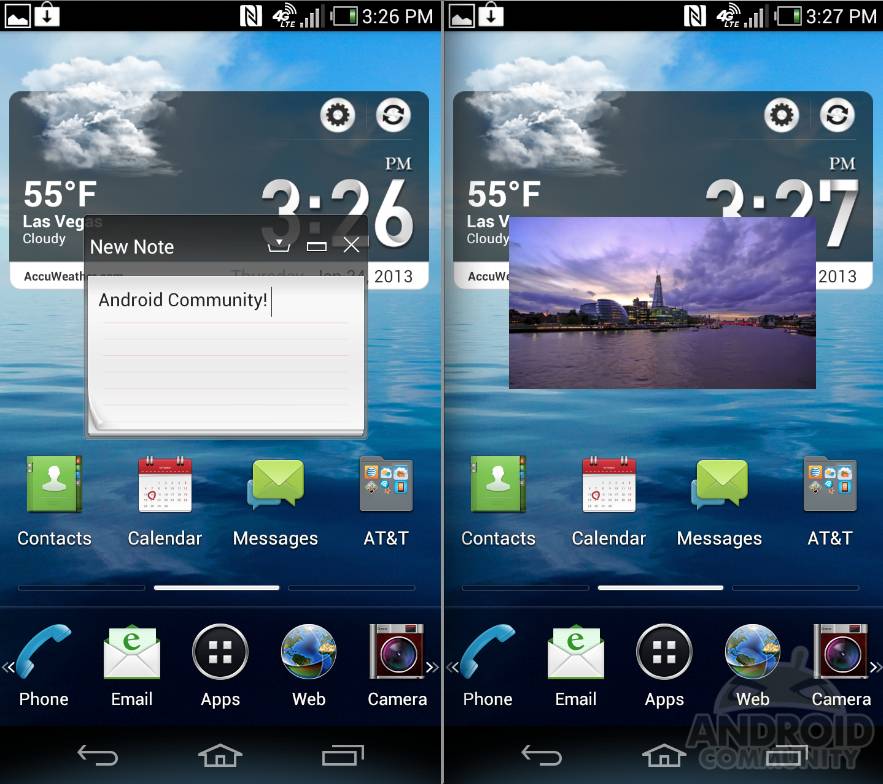 Today we have a new phone from the folks at Pantech to share with everyone. They're usually known for their low priced cheapo phones but the new and improved Pantech Discover looks to shake them of that reputation. This device comes with a 4.8-inch HD screen and more than enough power under the hood to get the job done. All of that is just $49 from AT&T too. Read on for our full rundown on why this could be one of the best budget handsets on the market.
Hardware
The Pantech Discover is actually extremely well rounded and certainly more than adequate to get most jobs done. While the design may be a bit odd to say the least, it helps the device seem sleek and low profile. Now what will you be working with for just $49.99 and a new 2-year contract? A pretty decent phone. The Pantech Discover comes equipped with a 4.8-inch 1280 x 720p HD display. And while it's crisp, bright, and vivid, the touch sensitivity gave me an issue once or twice but nothing one can't overcome.
Made of a durable lightweight aluminum and hard plastic the build quality is by far one of Pantech's best yet. They've added stereo speakers and one of the better cameras I've seen in anything under $200. This enjoys a 12.6 megapixel rear camera and 2 megapixel front for video chat and self portraits. 1080p video was actually rather decent (as was the sound) and you can see more on that below. Under the hood we have a 1.5 GHz dual-core Qualcomm Snapdragon processor and 1GB of RAM to keep things smooth, 16GB of internal storage and micro-SD for added options, then one of the only downsides is the 2,100 mAh battery could be a bit bigger.
With on-screen navigation buttons, a thin bezel, and a sleek and thin profile this phone actually feels smaller than a 4.8-inch handset like the Galaxy S III. Phones will smaller screens like the 4.5-inch RAZR HD are actually larger in size, so Pantech gets added points for that. To take you around the hardware we have micro-USB on bottom, the volume up/down rocker to the left and a stereo speaker grill. Up top is the 3.5mm headphone jack and a nicely placed power button. Then the right edge is graced with the second quality sounding stereo speaker. It looks odd from the side but this handset is actually really clean and sharp looking. I'm diggin in.
Overall the hardware is extremely well built for Pantech, especially for a $50 device, and had no issues or creaks from our limited time with the phone. In general Pantech's certainly stepped up their game and we hope more like it are coming soon.
Software
We really are enjoying the camera and hardware of this device, but the one area it really is lacking is the software. Sadly Pantech managed to only toss this onto the market with Android 4.0.4 Ice Cream Sandwich. No Jelly Bean here sadly, but hopefully it's coming soon. The other negative with software is their awful user interface over the top of Android. If this was stock Jelly Bean I'd love it, but sadly that isn't the case.
Pantech's added some great value and nice UI improvements to enhance usage, but their skin could use some work. I might have been a bit harsh above. It's certainly manageable and decent to work with but we've seen better. Their colors were odd with different shades of Grey (no 50 shades of Grey jokes please) Orange, some occasional teal greens and more. It doesn't feel very uniform would be a good way to describe it. That aside, they have pup-up play features for dual-screen video watching, or note taking. They've added multiple shortcuts for extra icons on the app drawer, and the same shortcut icons are on the bottom of the web browser. Here's the pop-up feature we mentioned:
You can move it wherever you'd like but sadly we can't re-size it. If they enable resizing with the Jelly Bean update, we'd really be happy. We have the usual AT&T bloatware everywhere, and they even have their own folder full of bloatware apps right on the home screen. Delete that right away. Here's some screenshots of the UI for a better idea of what to expect.
Another unique and nice idea is the notification bar. We have the usual quick toggles, but an advanced screen can be opened for more settings and options. Sadly the button to open that or clear notifications are too close together and I found myself hitting the wrong one. Same thing can be said about the settings button. It's oddly shaped and crammed up top and hard to hit at times. I don't want to focus so much to do simple tasks. Is that too much to ask?
In the end the software is quick, stable, fluid, and runs surprisingly well being Ice Cream Sandwich riddled with an overlay on top. The video below will give you a better idea of hardware, software, and everything else so take a peek.
Benchmarks
Enjoying a 4.8-inch HD display and the same 1.5 GHz dual-core processor as the US Galaxy S III, we were hoping for similar performance. While Quadrant offered a strong showing, AnTuTu put this phone to its knees for some reason. Daily usage, apps, multi-tasking, and gaming had absolutely zero issues though. As usual here's a few benchmarks just for good measure.
Performance was swift and speedy, and an update to Android 4.1 (or hopefully 4.2) Jelly Bean should improve the overall usage, but we had no complaints from day to day.
AT&T 4G LTE Speedtest
Rocking AT&T 4G LTE under the hood we had to give Speedtest a try to see just how things were holding up. And as expected, this thing was quick. AT&T's LTE rollout hasn't been as fast as Verizon but it's catching up and doing just fine. Here in Vegas I averaged speeds topping 20 MB/s and nearly the same for uploads. These quick speeds seemed more stable than Verizon's LTE around town too. I didn't think I'd be saying that this early into 2013.
Camera
The Pantech Discover comes with a 12.6 megapixel rear camera which adds a slight hump to an otherwise sleek handset, but the camera was solid. Sadly the zoom and autofocus has an obnoxious old zoom sound which I could do without, but the results were enough to overlook that. Photos were decent and nothing groundbreaking, but their 1080p video recording was better than expected. Another bright side of the recording was audio quality. The 1080p sample below is a good idea of what to expect and what we mean.
We snapped a few photos throughout the house and outside with this overcast weather and rain in Vegas, but images turned out crisp and not too grainy. Low light could use some help, but otherwise this will handle daily pictures and your average quick shot with ease.
Phone & Speakers
A big part of the design is the speakers on both sides. Rather than a tiny tin-can sounding rear speaker that gets muffled with almost any circumstance, the Discover rocks stereo speakers that are loud and crisp. I was extremely impressed with audio quality and no matter how you hold the phone the sound will still be loud and easy to hear. I really wish all smartphones and tablets used a better speaker and placement, and Pantech nailed it with this one.
Using the actual phone function – yes like for phone calls – the Pantech Discover was pretty stellar. The earpiece was loud and crisp, almost too loud, and of course speakerphone was top notch. AT&T call quality is always good so we had no complaints. For $49.99 this is as well rounded as it gets.
Battery life
As far as daily usage and battery life the Discover was a mixed bag of potatoes for us. Having a huge display and only a 2,100 mAh battery had us concerned, but overall it handled its own quite well. With light usage the phone should last well over 24 hours and make it through a days work. However if you're like us and constantly enjoying a YouTube video, getting multiple emails and Twitter notifications, and play a game or two you'll be reaching for a charger before days end. On a heavy heavy day I got just 7 hours and 12 minutes from a full charge, but that wasn't the usual usage scenario. It's safe to say the average to moderate user should have no concerns.
Wrap-Up
In closing, we're a little torn on what direction to take with this smartphone. On one hand this is by far one of the absolute best budget handsets on the market, and easily will make almost any user happy. For $49.99 the Pantech Discover delivers HD visuals, dual-core speed, impressive camera capabilities and 4G LTE. On the flip side the screen is a little washed out, touch sensitivity could use a little improvement, and the UI needs some work and uniformity. Then again, this is only $49.99 and made me happy for a week – so we expect most will love it.
AT&T does have the HTC One X which offers a similar package, better display, and a UI that certainly has a little extra polish around the edges with Sense UI. Or you could spend the extra $100 and grab the Samsung Galaxy S III. To end we'd have to say you'll need to hit a store and see for yourself. If you're on a budget and want one of the best phones for the price, the Pantech Discover is it. If you can manage a little extra surely go with another option, but for $49.99 this can't be beat. We'll say it again. For $49.99 the Pantech Discover is as well rounded as it gets! Enjoy the rest of the pictures below.
[device id=4188]