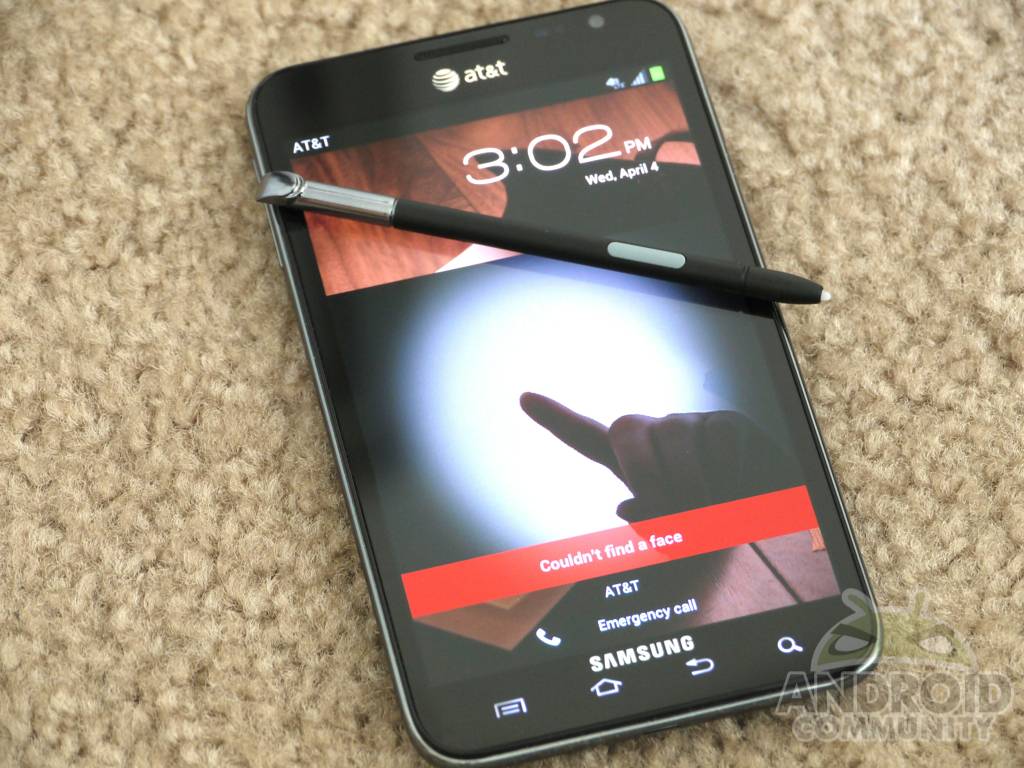 Say hello to the AT&T 4G LTE Galaxy Note running on Android 4.0.3 Ice Cream Sandwich. The official AT&T build was leaked late last night and we decided to give it a run on our own phablet. This 5.3″ Super AMOLED packing smartphone running on ICS is awesome. While we don't have everything Samsung has planned in this build, everything runs pretty rock solid and you can see for yourself in our video after the break.
This is an official build of Android 4.0.3 Ice Cream Sandwich for the AT&T 4G LTE Galaxy Note, this will not work with the HSPA+ international version. More details for downloading yourself will be available below. So far for just a leaked build everything is extremely impressive. Other than a force close at first boot, everything's ran smooth as butter. Obviously the Samsung TouchWiz UX changes make ICS not as visible, but you can definetaly tell and feel the difference.
While this doesn't have the Samsung Suite of new apps that are supposed to benefit the S-Pen stylus it does have some new widgets, Samsung Planner was renamed "calender" as that makes more sense, and we have 5-6 brand new widgets that take full advantage of the 5.3″ screen. Those are all on top of the other new features in Ice Cream Sandwich.
Thanks to the folks over at RootzWiki we were able to give this a full video hands-on rundown, and we love it. The Note might not be for you because of the size, but if that doesn't bother you it looks even more attractive with ICS. Everything appears to be working here. That includes Face Unlock as you saw above, camera, front camera, 4G LTE, browser, audio, voice and video calls and more. This seems as complete as ever and a fully stable and operational build of Ice Cream Sandwich. What we call a daily driver.
The camera works great and face unlock is extremely quick for those interested in that gimmick security feature. As you can see from the screenshot in the gallery below AT&T 4G LTE seems to be plenty fast with this latest leak. Getting speeds upwards of 20 MB/s here in Vegas. As far as general performance you can see from the video below yourself just how smooth and quick it runs. It took Samsung a few months to iron everything out, optimize the S-Pen and larger widgets for ICS, and it appears they've delivered on a pretty solid build.
The official Android 4.0 ICS for the AT&T Galaxy Note isn't rolling out yet to users but it's still on track for Q2, so we should be seeing it shortly. If you like what you see above or are just anxious to get the tasty frozen ICS on your own phablet then here is how.
Instructions:
Head to RootzWiki for the download here
-Download the file to a Windows PC (Windows only for now)
-Plug in the note and install USB drivers
-Power off and boot to flash mode (Volume down+power) then confirm with volume up
-Run the RootzWiki one-click flash and let it finish.
You'll then be on Android 4.0.3 ICS and enjoying all the goodness it brings on all 5.3″ of AMOLED beauty on the Galaxy Note. Here are a few more pics and screenshots, then let us know what you think if you try this yourself.