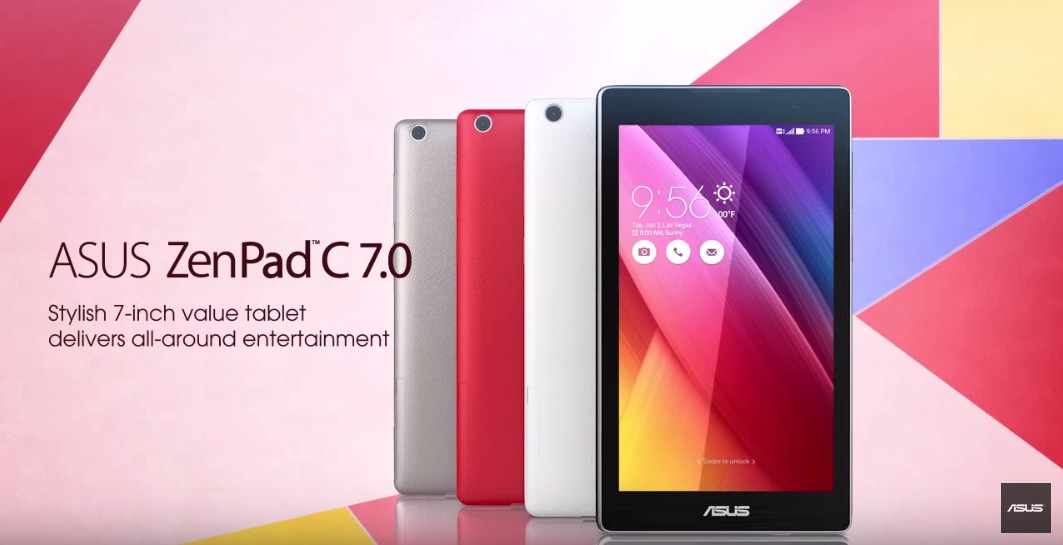 Users have been expecting the ZenPad 8.0 and the ZenPad 8.0 S series tablets from Asus, since they have been heavily promoting it since it was announced earlier this month at Computex 2015. But the Taiwanese OEM has definitely surprised us with an under-the-radar offering that has now been unveiled via a video released earlier today. Asus introduced the ZenPad C 7.0, a device that might just be affordable enough for those looking to get a basic, functional tablet.
The video specifically mentions that this is a "stylish, 7-inch value tablet" and so if you're looking for something a little more high-end, this isn't for you. But if value for money (at least on paper, or rather, video) is your criteria for getting a new tablet, then the ZenPad C 7.0 might do the trick. It has a 7″ IPS display and is just 8.4mm thick and weights 265 grams. It will probably be pretty adequate if all you're looking for in a tablet is to browse the web, watch YouTube and videos without expecting too much quality.
There will be two different models, with one having a 5MP main camera while the other one has a 2MP "rear snapper". Both will have a front-facing camera with just 0.3MP, although the video says it has a selfie panorama feature and low-light support. Maybe it will make selfies look a little better despite the low quality of the camera.
One of the ZenPad C 7.0 models will also have dual-SIM support (dual standby actually) and will also support 3G for calling. No pricing or availability details yet, so let's stand by and maybe ASUS will pull off another surprise.
https://www.youtube.com/watch?v=g7t78W4Mm0E
VIA: GSM Arena