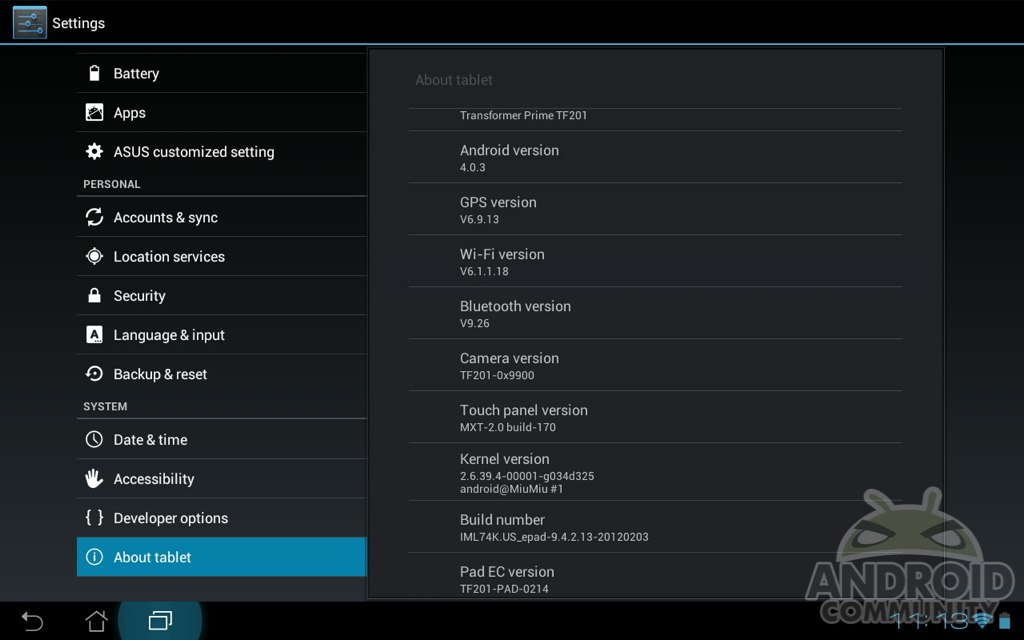 Good news for all the ASUS Transformer Prime owners today folks. You should have a new update ready to install for your Android 4.0 powered tablet this afternoon. Today ASUS has officially started pushing their latest update to the quad-core device and it should be fixing a number of problems and enhancing overall performance.
If you haven't received the notification go into settings > about tablet > firmware updates and give it a go today. It is rather small and will download in a matter of seconds. The update will bring the Prime to build 9.4.2.13 and along with it comes a new kernel and improvements yet again to WiFi and GPS. We are also hearing this update to the kernel should not only enhance battery life and increase performance, but will solve the random reboot issue introduced with the Android 4.0 Ice Cream Sandwich update.
It appears the bluetooth version received a small change here too, but so far that seems to about all. Once we find a full change log we'll update. After initial installation I'm not noticing anything different here and performance seems swift as always. I didn't have problems with WiFi before so I can't comment here. The new build is 9.4.2.13-20120203 and was just compiled a few days ago, for those interested. Feel free to sound off in the comment section below if you notice any major changes or have problems — We'd love to hear. Now if we could only get that bootloader unlocked then everything would be good.
[device id=1934]