Last week at CES 2012 ASUS announced that the update for the new Transformer Prime was ready now and they surprised the crowd by announcing it was ready a few days early instead of January 12th like their initial announcement. That is all good and dandy news but many original Transformer owners weren't happy to hear and probably tossed their hands up with frustration. Today ASUS has updated their Facebook Page with some clarification.
According to their North America Facebook the Android 4.0.3 Ice Cream Sandwich update for the original Transformer is all set and ready to roll out — only it's currently going through the lengthy process of being approved by Google first.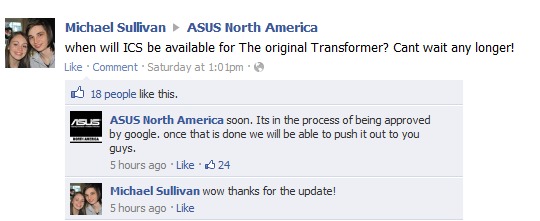 Just like most updates we can expect a few bug fixes and changes to come along with the improvements and new UI from Ice Cream Sandwich. Thanks to ASUS and their hard work owners of the original Transformer should see the update to ICS very soon and possible as early as the first week of February. With many racing to be the first with updates it's highly possible that ASUS will push this sooner once it gets approved — just like they did with the Prime. I'll be sure to check my OG Transformer often and as soon as we hear the update is rolling out we'll be sure to inform you all so stay tuned.
[device id=272]