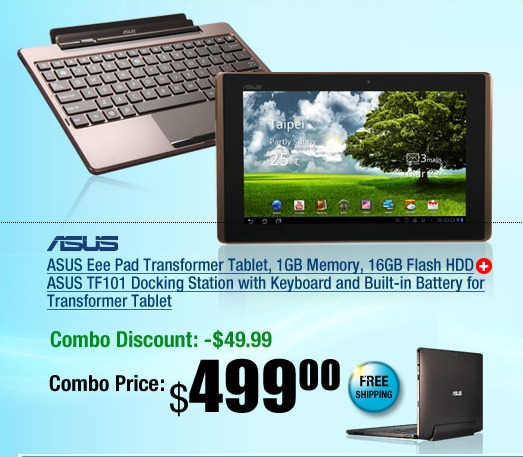 It is getting to be that time where everyone has probably already started some form of back to school shopping. Today over on that fun site Newegg.com they are offering a few back to school deals and one happens to be the ASUS Eee Pad Transformer tablet that everyone loves and the keyboard dock both in a combo for only $499.
The ASUS Transformer with the keyboard dock makes a perfect companion for students as you have both a portable tablet and a full laptop keyboard with additional battery life for when it's needed. Feel free to read our full review with pictures and all. While this deal via Newegg is only the 16GB Transformer that retails for $399 the keyboard dock is $149 so this is a pretty sweet deal to end the summer.
The Transformer recently was upgraded to Android 3.2 Honeycomb so it has the latest and greatest from Google's lovely OS. The update to 3.2 brought some great new features like zoom to fullscreen for older apps and many other improvements, read about those in our 3.2 guide. Again get the Transformer and keyboard dock both for only $499 over at Newegg.com and while their deals don't last long and usually sell out I'd recommend you hurry if you'd like to get in on the action.
[device id=272]
[via Newegg]