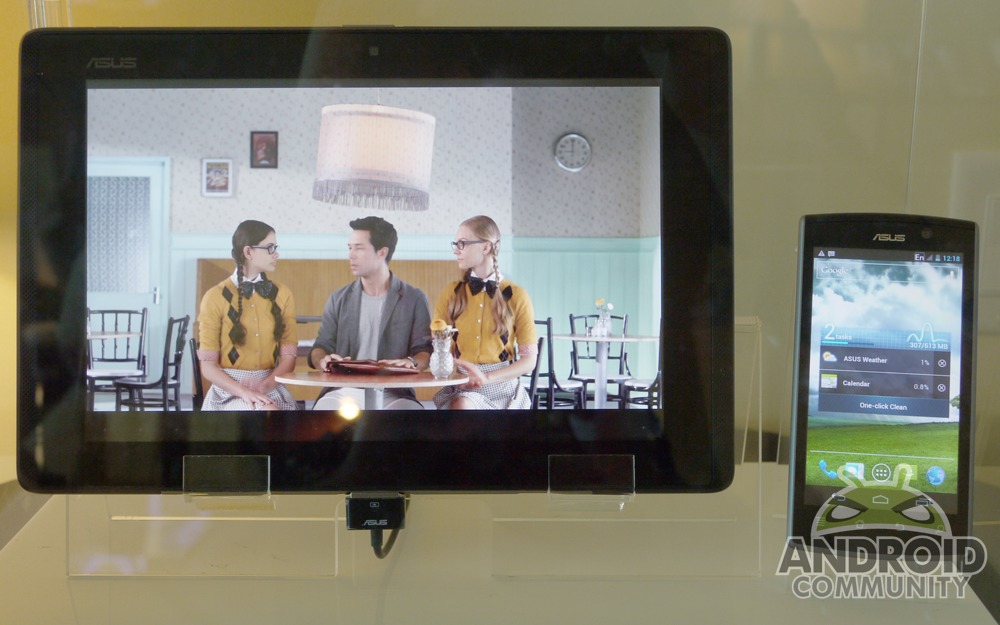 In case you didn't notice, we were able to get up close and personal with all of the tablets coming from ASUS in the next few months. One of those that I'm sure many of you are as excited about as me is the ASUS Padfone — The phone inside a tablet. This 10″ Android tablet saves a spot for the new ASUS smartphone to fit snug inside and act as the internals and operate the tablet. Now with Ice Cream Sandwich unifying both Honeycomb and ICS this will be better than ever.
We've seen this before in more than a few different iterations but today at the ASUS hall we got another look. The tablet and smartphone both have been refined and updated with the latest and greatest for 2012. Being under glass, and a lock and key we only have a few short details. The smartphone appears to be a 4.3″ AMOLED display and has been updated to Android 4.0 Ice Cream Sandwich rather than Gingerbread. The rear is rocking an 8 MP camera and dual-LED flash.
ASUS is touting this as a device that will allow you to "enlarge your screen size on the go". Your SIM, storage, processor and more is all inside the phone. Since it was sadly hidden behind a large bullet-proof glass we were unable to look for ports and options on the tablet. Check out our pictures below and see if you can spot anything.
We will be seeing more of the Padfone at MWC 2012, and we'll be their live to capture that too.