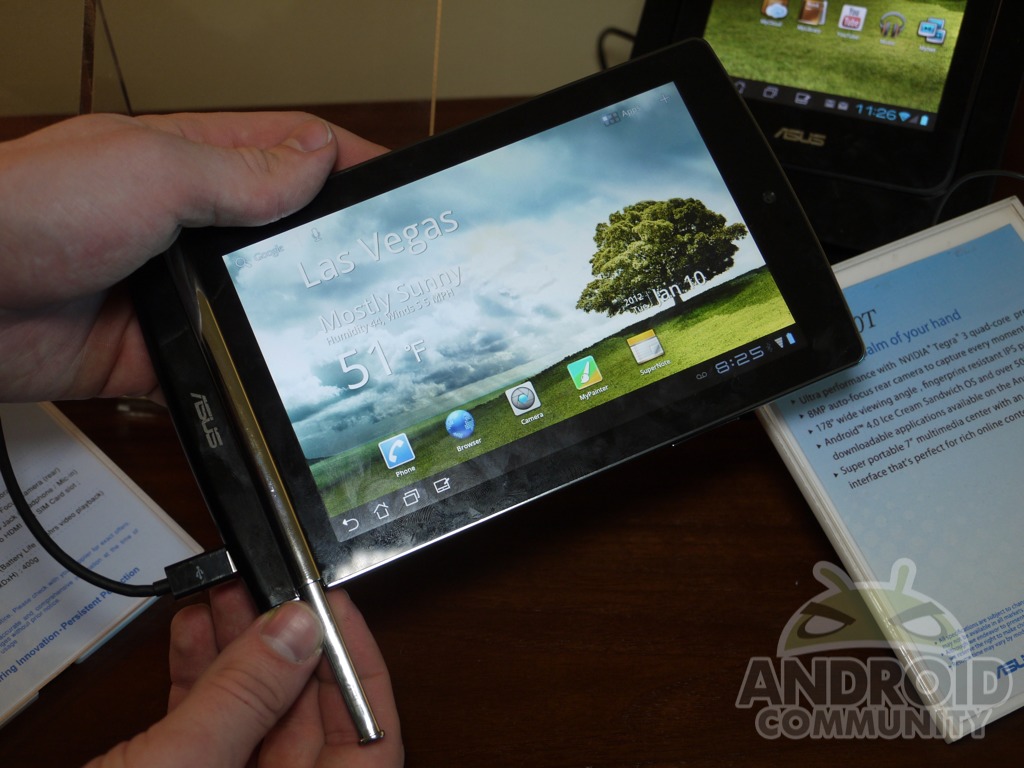 We've heard plenty regarding this next tablet that we spotted over at the ASUS while wandering the halls at CES. This is the ASUS Eee Pad Memo 171 although we've seen a few names in the past. This isn't the first time we've heard of it but now it's in the US we quickly grabbed some pictures. It's currently set to hit Europe soon and we have all the details.
The ASUS MeMO 171 features a 7″ 1280 x 800 IPS display with great viewing angles and exceptionally great colors and brightness. Unlike it's recently unveiled brother this model doesn't have the quad-core, instead it will be offered with the Qualcomm 1.2 GHz dual-core processor and 1 GB of RAM.
Again, this 7″ tablet isn't as thin as the popular Transformer Prime but they've packed all that power into a smaller package so that is one thing to consider. The MeMO 171 has micro-USB, micro-HDMI and even micro-SD for extra storage. For those unfamiliar it also has a stylus hiding in the bezel below that doubles as a great handle while using in landscape mode. Around back is a 5 megapixel camera and they've tossed a 1.2 MP front for video calling.
ASUS has added an integrated MeMic bluetooth headset for superior audio quality and hands-free calling — yes hands-free calling. Currently only slated for a Europe debut this tablet features GSM radios and was actually rocking a T-Mobile SIM (as seen below). According to ASUS they have no immediate plans to bring this to the US but that could change at any moment. They also state it will be upgraded to Android 4.0 Ice Cream Sandwich "soon". Enjoy the hands-on video and pictures below.