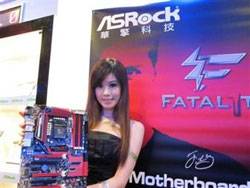 ASRock is a tech firm that has been around for a while in the computer hardware market. The company makes some interesting mainboards for computer geeks that like to roll their own systems. DigiTimes reports that ASRock is set to enter the tablet PC market in Q2 2011. The entry will come with lots of help from Pegatron Technology, the parent company of ASRock.
Pegatron is the builder of tablets and computers that are sold under many of the brand names we all know. ASRock is eyeing entry into the tablet market with 7-inch and 10-inch screens. According to DigiTimes, the tablets will only be offered with NVIDIA Tegra 2 processor and Android 3.0 as the OS.
The news of Android tablets comes from Li Jun-Ying, sales division VP for Pegatron Technology. DigiTimes also reports that ASRock didn't hit its sales goals for mainboard in 2010. The firm wanted to ship 9 million mainboards, but only shipped 8 million.