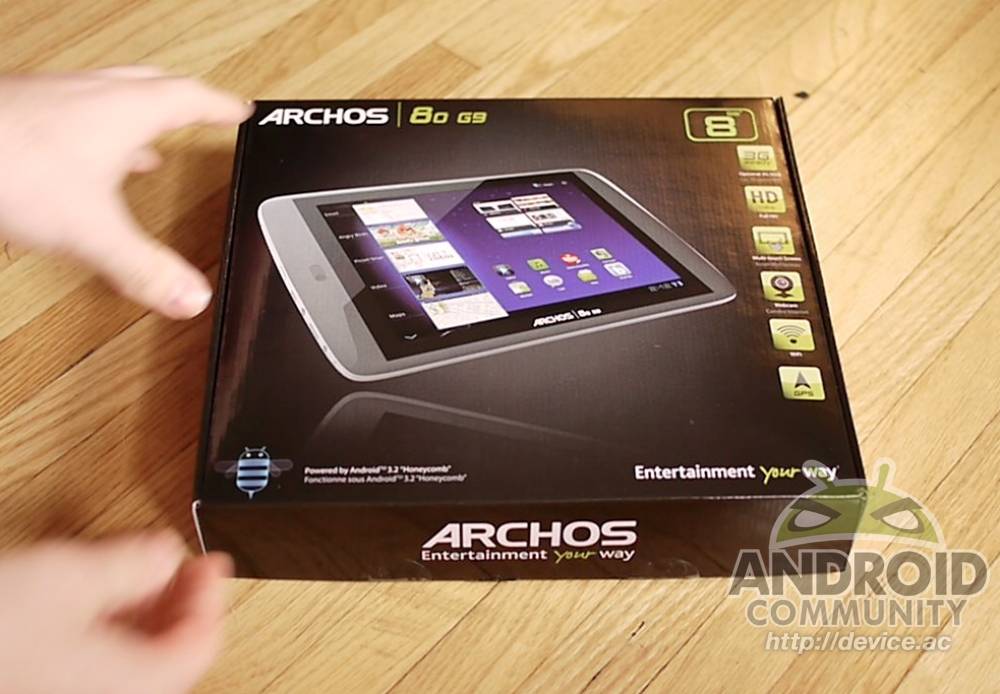 We've got products coming out of our ears this week here at Android Community, the newest of which is the Archos 80 G9, a lovely new Honeycomb tablet sitting itself up to compete with the now-saturated tablet market here in the USA. This tablet has a unique shape and size, feels just divine to hold with one or two hands, and does indeed have a built-in kickstand to allow you to do your everyday work and play with complete ease. Will this tablet drown in the sea, or will it have a fighting chance at taking a sizable bite out of the fledgeling Android tablet market?
This device and its slightly bigger brother, the ARCHOS 101 G9 tablet, both contain one of the most powerful chips on the market today. It's the Texas Intruments OMAP4 dual-core processor running at 1GHz . At the moment we've not got the 3G connection these tablets are set to be running with in the future and must rely on its Wi-fi connection, so no speed tests quite yet, but we can certainly do some benchmarks, and benchmarks you shall have soon! Meanwhile you can see everything that's going on inside and outside this tablet here in this video, courtesy of yours truly this afternoon.
[vms 2632813f9e35f4ba53d6]
First impression on this device is that it's thin, it's really nice to hold, and a low price point would send this tablet into the record books for best selling tablet in the history of the world – sort of. The interesting thing about this little monster is that it's one of the only dual-core Android tablets on the market that ISN'T NVIDIA – that is, if you don't count the HP TouchPad hacked and twisted. What this little tablet represents is a choice for all those looking to get in to the tablet game that don't want a gigantic display but also want a dual-core processor. It fills that market slot.
In the future we'll have 3G connectivity on this device, but for now we've got an empty full-sized USB slot on the back (filled with a dummy unit) as well as a slew of additional ports and slots for all sorts of plug-n-play interaction. This tablet will be reviewed by yours truly here on Android Community soon and very soon, believe it – also ask any questions you've got now – now's your time!
BONUS we've got some hands-on video with the director of marketing for ARCHOS, courtesy of Vince over at our sister site SlashGear. Check it out here:
[vms 7225a6f6c7d802dc6abb]