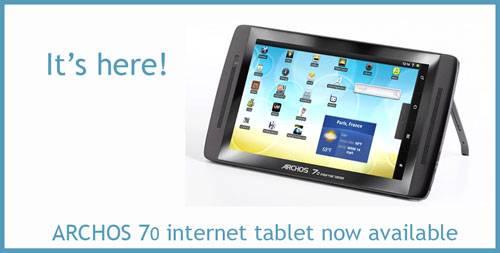 If you don't want to wait until next year when that LG Android tablet I mentioned earlier lands you can get your hands on a new Archos 70 tablet right now. The company has started shipping the tablet in 8GB capacity for $279. The tablet has a 7-inch touchscreen with a g-sensor and a resolution of 800 x 480.
The tablet is very thin and lightweight at 11 ounces and only 0.43-inch thick. The device also has a TV output allowing you to see Android content on your big screen and surf the web. The device has Samba and UPnP protocols built-in for streaming of video.
The device supports WiFi and will play Flash content. The processor is a 1GHz unit and later a version with 250GB of storage will be available. It also supports 3D graphics for video games with OpenGL acceleration. The specific version of Android the device uses is 2.2 and it supports video chatting.