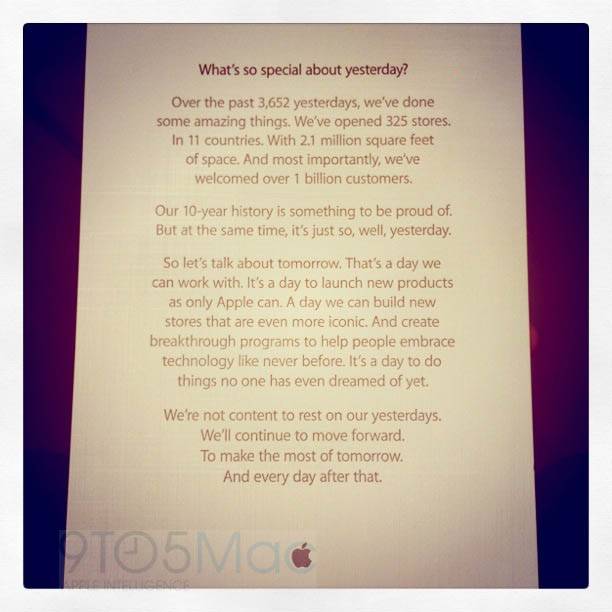 Before I begin explaining what's going on here, lemme say that Apple is without a doubt Google's biggest competitor for the mobile OS world as we know it. Thusly it's important that we know what's going on at Apple stores specifically because the space that Apple creates for their whole product set is something that Android just does not have at this juncture. What's going on at the Apple store now is a few changes as far as how they work with and provide a nice environment for consumers who walk onto the floor.
First, there's a bit of a quote from a fellow over at MacTalk.com.au by the name of Jack112006 on the new Apple Retail store setup, going into detail on how it appears to a consumer to enter in:
As I was purchasing an iMac today, I spent quite a while talking to a few different staff members about the changes. To them, having the iPads as product info stands was nice, but the real change to them caused by the iPads is the queue system they introduce. Now, instead of having to wait around to find a free Specialist, all you have to do is request a Specialist from an iPad at the table you are at and they will be over as soon as they can be. It even tells you what place in the queue you are.
As you may well know if you've ever gone into an Apple store, (judging by the amount of Apple computers yours truly sees at any given Android event, I'm sure the majority of the community HAS been,) it's not always immediately possible to get help from a worker, assistance on a product you need some questions answered on. This new system aims to alleviate that problem.
There's also another bit regarding security in the stores – that being an ultra-thin tape cable that connects to the iPad dock connector to both charge and sound the alarm should anyone tug just a bit too hard. In addition to this, many/all home buttons on these display models are non-functional, rendering the tablets only able to show and work with the pre-set interactive demo software.
Finally, there's a lovely note that's being circulated having been passed to Apple store employees about how to work now and what's been done to improve the stores: