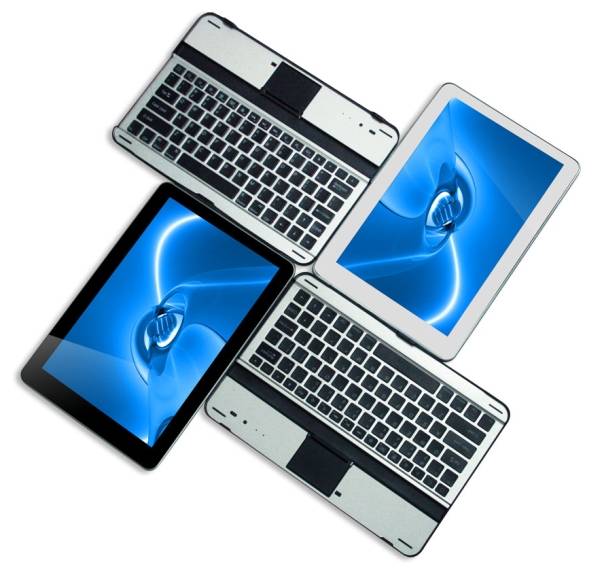 The ASUS Transformer tablet really started a new trend in the world of tablets. Many have tried to offer similar options but ASUS is still leading the pack. As usual, those Chinese manufacturers have came up with their own alternative for half the cost. Meet the Aocos PX102 "Hummingbird" tablet with a 1.6 GHz processor, Android 4.1 Jelly Bean, and of course a Transformer-styled keyboard dock.
Obviously you won't get all the aluminum and brushed design cues of the Transformer, but the Aocos tablet does offer some pretty decent specs all for around $209. It looks like US customers can even get their own for $230 should they choose. So what about this tablet? The Aocos PX102 comes with a 10.1-inch 1280 x 800 resolution display, a RockChip 1.6 GHz Cortex-A9 dual-core processor, 1GB of RAM, 16GB of storage and nearly the latest version of Android.
Not bad right? Being just $200 we were concerned about how the rest of the specs would line up but it handles the task ok. The tablet part measures just 9.6mm thick and features a single USB 2.0 port, Micro USB, Bluetooth, Wifi, and even HDMI out. They've also added a micro-SD slot for expanding on that 16GB of internal storage. Just like the Transformer, the Aocos has your usual battery built into the keyboard dock, which is rechargeable, and it connects via bluetooth. You won't have any weird docking pins here.
While there's no docking pins it does dock in and connect rather tight, and will close and double as a nice screen protector as we've come to expect. We don't know much about this tablet, or how stock Android 4.1 Jelly Bean is — but it looks fairly decent from the pictures. Get one from Chinagrabber if you're interested. Would you take a risk on this $200 tablet from China?
[via Android Authority]